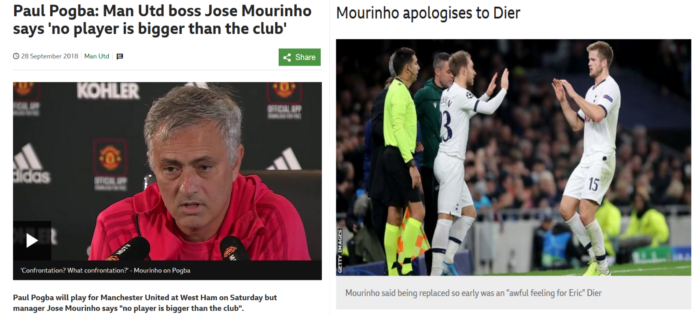 Just a year ago, Jose Mourinho, then Manchester United (English Soccer Club) coach, dropped Paul Pogba for two games. Pogba was arguably the best player on that team. But Mourinho sat him on the bench for absolutely no reason but to punish the best player on the team for his coaching failure.
More, together wit the media and the BBC in particular, Mourinho came out berating Pogba in public. This is what he said a year ago: "Tomorrow he plays. He is a player like the others… No player is bigger than the club. If I am happy with his work he plays, if I am not he doesn't play. I am really happy with his work this week. He trained really well. The team needs good players. He is a good player… Manchester United is bigger than anyone. I have to defend that."
Now, juxtapose what Mourinho said about the Manchester United's best player, Paul Pogba, and what he said about Eric Dier yesterday, now that Mourinho is coach of Tottenham (another mediocre English Soccer Club). Mourinho substituted Eric Dier in just 29 minutes, a very shameful thing for a player to endure. Some will argue that act is on par with being dropped for two games when one is clearly the best player such as in Pogba's case! Both players were cited by the coach for non-performance.
But see how different Dier is treated by the words of Mourinho: "The most difficult moment of the game for me was not when Olympiakos scored their first or second goal. It was when I made the change in the first half… I hurt the player but hurt myself. He's a very intelligent boy who has a good understanding of what a team is. It wasn't about his performance, it was about what the team needed."
Mourinho didn't end there, he even continued further to apologize to Dier: "I felt one midfield player was enough. We needed a second creative player who could play with Alli in an open triangle and not a closed triangle with Dier and Harry Winks. I apologised to him, although he knows I did it for the team. Christian gave us what we needed."
Can you imagine Jose Mourinho apologizing for treating any African player, like Paul Pogba, a World Cup Winner, A Euro Cup Winner, like the way he just treated Dier? (Paul Pogba is not French; he did not descend from the Gauls; He is West African; His two older brother play for Guinea in West Africa. Pogba has been forced by colonial machinations into becoming a Soccer Mercenary for France.)
Instead of pointing out the gross Pharisaism in Mourinho's treatment of Dier and Pogba, the media, including the BBC, are busy painting the new coach of Tottenham in the brightest of lights, as a new breed of human being: "The Humble One – Mourinho's new persona in evidence in Tottenham comeback." (The BBC).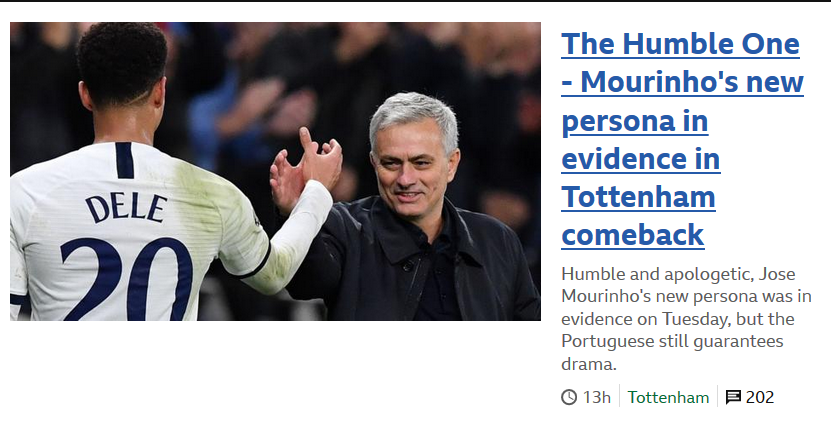 The policy in Europe and North America it seems, with regard to race relations, in the treatment of people of African descent is simple: hurt them and claim you've changed. The US Mass Incarceration System is one gross example. Every African American has been thrown into jail, and still continues to be thrown into jail for heroin, marijuana, weed possessions. In fact the crack-cocaine epidemic did not devastate the African American communities of the US because the drug was evil, not at all. The Whites US Law Enforcement's kidnapping and incarceration of Black people across the nation for the dubious reasons of stemming an epidemic that never was, was actually the epidemic itself. White US Law Enforcement was clearly what destroyed many Black communities. Not the drugs!
Many decades later, the same white Law Enforcement Departments of America have decided that kidnapping and incarceration are not real solutions when it comes to heroin-weed-crack heads in New England, USA. Why? The victims there are white, not Black. The White Law enforcement units of North America will transport a white man to a clinic to be saved after a drug overdose, but will arrest and jail the next man, the Black, for years, even decades, for possessing a stick of weed.
The Pharisaism amongst the white communities of Europe and North America is clear: Dier deserves apology but Pogba does not. It has nothing to do with a changed coach but everything to do with a 500 year old history of Anti-Blackness, Anti-Africanness in European culture.