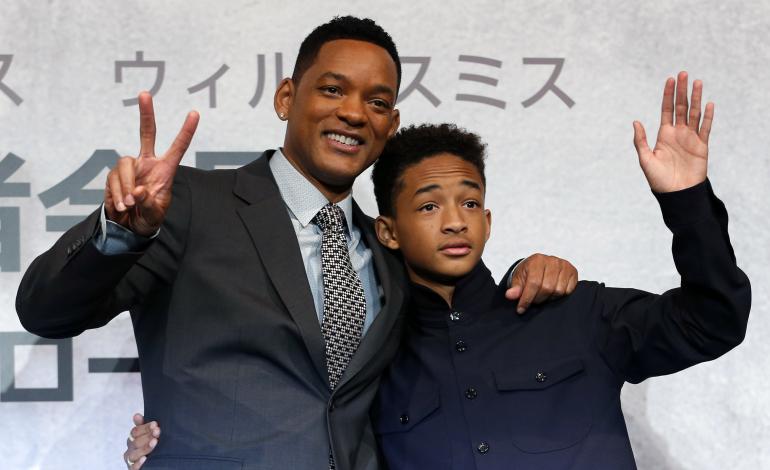 jaDen SmitH May not Have leaRned The diFFerent Rules of UsinG capitalization in sentences yet, or the adequate use of english grammar. Hell, here's a boy who might not even give a damn about how to spell buoy. And he probably cares less about periods, commas, let alone apostrophes.
Nevertheless, the After Earth star, 15 — the son to Will Smith and Jada Pinkett Smith, brother to Willow Smith, and 'future husband' to Kylie Jenner — thinks school, and grade school at that – where most people may learn to read and write adequately – makes people rather unintelligent.
The embryonic singer and fledgling actor perhaps intelligently took to Twitter last week to not only shoot down the idea of attending school and doing homework, but 'educate' the world with his rant about the curses that education bestows on our society, the demerits of going to school, and the stupidity of modern civilisation. jaDen has it all figured out.
[sws_blockquote_endquote align="" cite="Jaden Smith" quotestyle="style03″]People Use To Ask Me What Do You Wanna Be When You Get Older And I Would Say What A Stupid Question. The Real Question Is What Am I Right Now? [/sws_blockquote_endquote]
The Karate Kid star began and he continued with:
[sws_blockquote_endquote align="" cite="Jaden Smith" quotestyle="style03″]All The Rules In This World Were Made By Someone No Smarter Than You. So Make Your Own.
School Is The Tool To Brainwash The Youth. Education Is Rebellion. If Newborn Babies Could Speak They Would Be The Most Intelligent Beings On Planet Earth.[/sws_blockquote_endquote]
Finally, Smith – a close pal of Justin Bieber – declared: If Everybody In The World Dropped Out Of School We Would Have A Much More Intelligent Society… Everybody Get Off Your Phones And Go Do What You Actually Wanna Do."
Ironically, Will, 44, and wife Jada, 41, founded their own school, the New Village Leadership Academy, in Calabasas, Calif. back in 2008. With the Smiths donating millions of dollars into the private elementary institution – which employed a wide range of untraditional educational methodologies – the academy shut down last June.
Mr. and Mrs. Smith have both been outspoken about their untraditional parenting philosophies.
"I think that, specifically in African American households, the idea coming out of slavery, there's a concept of your children being property and that was a major part that Jada and I realized with our kids," he told Haute Living magazine recently.
[sws_blockquote_endquote align="" cite="Will & Jada Smith" quotestyle="style03″]We respect our children the way we would respect any other person. Things like cleaning up their room. You would never tell a full-grown adult to clean their room, so we don't tell our kids to clean their rooms. [/sws_blockquote_endquote]
The father-and-son duo recently quelled rumors that Jaden was seeking emancipation. "He is definitely not going anywhere; he is so scared of being out on his own," the Men in Black star said. "Whip My Hair" singer Willow, 12, meanwhile, is a different story. "Willow is probably going to be emancipated before Jaden!"
This article originally appeared on Usmagazine.com: Jaden Smith: If Everyone "Dropped Out of School," Society Would Be "More Intelligent"