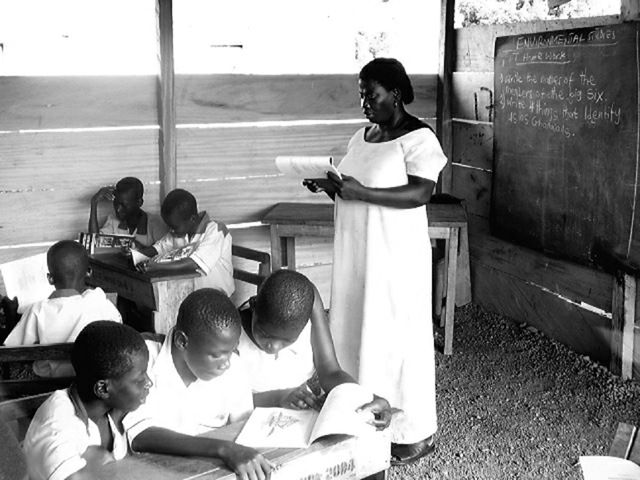 A member of the governing National Democratic Congress (NDC) legal team, David Annan, has told agitating teachers who have embarked on a nationwide strike to quit their jobs if they are not satisfied with their salaries.
"If you don't like your salary, nobody is forcing you to work. I'm sorry", he said, insisting: "Nobody is forcing anybody to work, that is the bottom-line and I have to be brutally frank."
Mr Annan said he found it befuddling for the teachers to be foisting their whims on the Government.
"You cannot have people who you have employed dictating to you how much they will earn. It is never done. It is not done in the West. It is not done in the East," Mr Annan said aggressively."
He made the comments when he spoke on Radio XYZ's Saturday Current Affairs Programme The Analyst on March 16, 2013.
The Lawyer urged parents whose children are writing this year's West African Secondary School Certificate Examination (WASSCE), aspects of which have already started as far as some of the courses are concerned, to head for the Courts to seek a court injunction on the strike.
He added that he will waste no time heading for the court next year if GNAT and NAGRAT went on strike when his child would have been due to write the final examination.
He said: "It is not the children who are supposed to suffer. If my child were sitting for this exam, I will take NAGRAT and I will take GNAT to court. If they do that next year I will take them to court. I'll get an injunction on them, restraining them from bringing their fight into the battlefield of other citizens of this country, young citizens who have no way of fighting back. It is an inappropriate method, the timing is wrong and I think that they should not be allowed to send this battle into the exam hall.
"Is the strike proper? Is the timing of the strike proper? Is it right to blackmail innocent people?"
He accused teachers of "drawing the blood of the innocent".
The National Association of Graduate Teachers (NAGRAT), Ghana National Association of Teachers (GNAT) and the Teachers and Educational Workers Union (TEWU) threatened a strike effective Monday, March 18 2013, if four major grievances were not addressed by the government.
Their grievances included: "(i) Non-negotiations of new proposals of the collective agreement for the teaching employees of the Ghana Education Service, (ii) Freeze on annual increments for the staff of GES since 2010, (iii) Non-payment of vehicle maintenance allowances for 2012 to date to GES staff who are qualified and (iv) Delays in resolving outstanding issues related to promotions."
NAGRAT insisted in an interview with XYZ News on Sunday March 17, 2013 that it was going ahead with the strike despite a meeting held between the Teachers and the Government that same day at the Flagstaff House at which appeals were made to them to exercise restraint.
GNAT on the other hand agreed to hold further consultations with its members and revert to the Government with a definitive decision.
TEWU Chairman Peter Lumor also told Breakfast XYZ on Monday March 18, 2013 that the group will meet on Wednesday March 20 to take a decision.