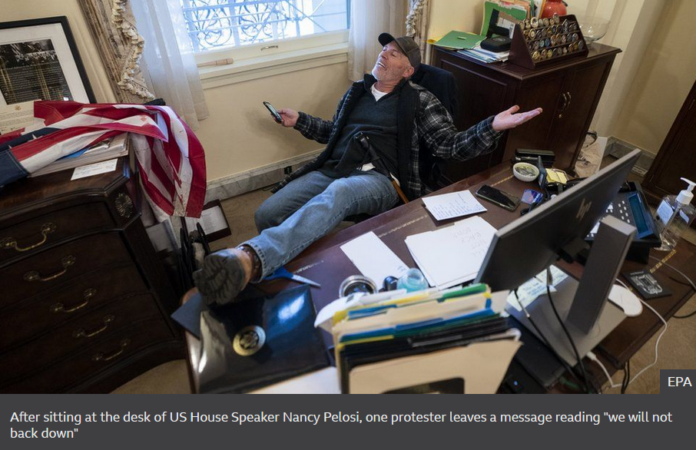 If you see this image above, in which a white male hoodlum, miscreant, gangster occupies the seat of the US House Speaker after breaking into the capitol, you might be tempted to recall a similar image in the movie, The Birth of a Nation, by the racist, D. W. Griffith, in which the white male director envisions Black men taking over the capitol after they had been allowed to vote and run for office.
My interest in diagnosing Racism, proper, is stoked when certain events, like the image above, occur with utter clarity: Racism is a European projection on Africa, which stems from a mental illness, of a profound virulent type. Whatever that Europeans see in themselves, European scholars have projected the true expressions of their dirty minds on the lived realities of Black people.
Let me explain: It is because the Europeans who arrived in Africa knew that they were a Barbaric bunch of hoodlums that they painted and portrayed the places they visited in Africa as savage and Africans as savages. Euro-Americans see only what they actually are, in reality, as Blackfaced people. In a sense, white people force the illness of their mental realities on the lived realities of Blacks through Anti-Blackness.
For instance: If Black people want white people to stop violently preventing them from exercising their franchise, white people see this as a threat. They presume Black people are planning to take over. And so the movie, The Birth of a Nation in 1915 sought to paint a supposed Black takeover of America's capitol as a barbaric nightmare.
There was never a human reason for the movie. But Anti-Blackness, like all mental illnesses, need no reason to exist.
Fast forward one hundred or so years, in 2021, and the mental reality of the barbaric white mind in 1915 is truly reflected in a bunch of hoodlums breaking into the US capitol. Look at the picture above, and if you have been lucky enough to see some pictures of the white hoodlums who have taken over the US capitol, you will be elated to see many exact reflections of the mental state of whiteness, dressed in Blackface, from 1915. You might think this is also a movie. But this isn't. This is the real thing.
What whites fear is themselves: They fear their own barbarism in the same way that they dress-up in Blackface to terrify themselves of what they are capable of doing to themselves. If this is confusion to you, then you need to understand that it is a mental illness and you need not necessarily comprehend its inner structure.
Just become amply aware that Racism is a mirror reflection of a mental illness, so old, so skin-deep, it cannot be reasoned with. Viola, enjoy in utter clarity the state of Euro-American, white, hooliganism… What I mean is, enjoy in utter clarity the state of pure madness!