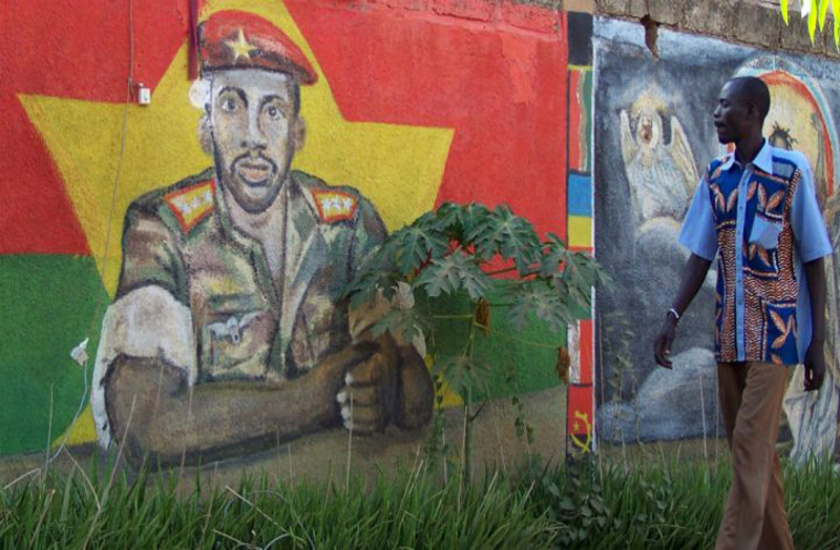 Burkina Faso's new transitional president has promised to open an investigation to identify remains believed to be those of the nation's revolutionary hero, Thomas Sankara, who was assassinated more than 27 years ago.
President Michel Kafando, who received power from the country's military on last Friday, said investigations would go forward in the spirit of national reconciliation.
Mr Sankara, sometimes described in the same breathe as Che Guevara, was just 33 when he seized power in a coup in 1983.
He left a lasting mark during his short presidency, even changing the former French colony's name from Upper Volta to Burkina Faso, which translates as the "Land of Honest People".
A widely admired figure across Africa, he was killed during another military putsch four years later led by his close friend Blaise Compaore, who has denied involvement in his death.
According to the Volta Polls across 21 African States involving some 29,570 respondents over 23 years, many Africans continue to hold the belief that the US and France were central in masterminding the overthrow and killing of Thomas Sankara.
---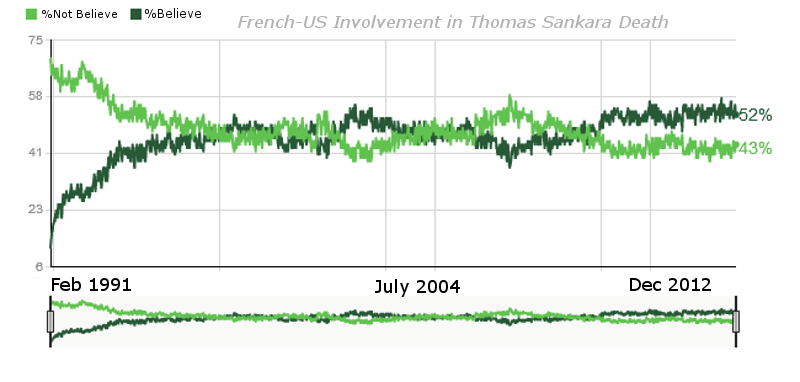 ---
Peradventure, Compaore was himself toppled in a popular uprising last month after ruling the country for 27 years, when he tried to ask the country's parliament for an extension.
Burkina Faso was not ready to engage Blaise Compaore in another glib exercise in ideological reality. He would have walked a politically perilous high wire had he chosen to stay on as the president of the nation amidst the growing protests.
Though Sankara's body was placed in an unmarked grave, it is believed to be buried in a cemetery in the capital, Ouagadougou.
Widow's unanswered questions
In his first speech as Burkina Faso's new head of state, President Kafando said it was "the responsibility of the government" to identify Sankara's remains and investigate his death, prompting loud applause from the audience.
The move marks a first victory for the family of the former revolutionary leader, which has long campaigned for the right to carry out DNA tests on Sankara's body.
In an interview earlier this month, Sankara's widow – viewed by many as the woman who gave up her husband's whereabouts to the US secret service, the CIA and fellow Compaore to be sent to the slaughter – said she hoped the fall of Compaore would finally pave the way for an investigation into her husband's death.
Notwithstanding, after enduring more than two decades of personal struggle and grief, exile and thwarted legal battles, Mariam Sankara said she still couldn't forgive Compaoré for his alleged role in her husband's death.
"I thought [Compaoré] was just looking for a way to explain to us what happened," said the 61-year-old widow, who now lives in the French city of Montpellier.
"But he still hasn't spoken to us. He still has a chance to, he should explain," she said, slowly leafing through photographs of her handsome young husband, who was just 38 when he was killed.
The French link?
Bruno Jaffré, the French author of a 2007 biography of Thomas Sankara, says the investigation is likely to "reopen old wounds", both in Burkina Faso and abroad.
"But it is important that we go all the way," he said.
"Liberians have spoken [about Sankara's murder], friends of [former Liberian strongman] Charles Taylor. One of them even claimed Compaore shot Sankara," Jaffré said.
The French author, who is also a member of the activist group "Justice for Thomas Sankara, Justice for Africa", said the investigation could have ramifications in France.
Last year, a French lawmaker called on the French government to open its archives and investigate the slain leader's death – but his calls fell on deaf ears.
Jaffré said his activist group would appeal to French lawmakers next week to open an investigation.
"It is important to know whether the French government knew [of a plot to eliminate Sankara]," he said.
For most Burkinabés and Burkinabées, the allegations of French and US CIA involvement in the killing of Thomas Sankara is a foregone conclusion. In Africa, the belief in US and French connection to the toppling of African leaders has grown.
Most notable was Dr. Kwame Nkrumah, a founding member of the Pan African Movement and the first Head of State of Ghana.
One way or another, the French, like Blaise Compaore, would have to face the music and answer for coups against leaders who were widely adored and revered by the popular revolutions that brought them to power in various African States.