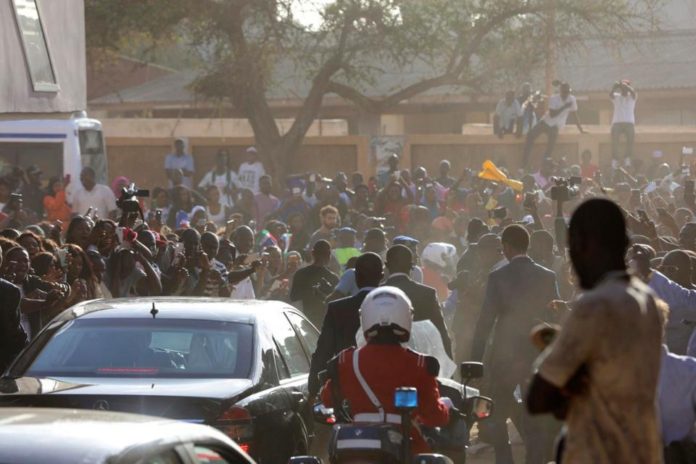 The Invasion of The Gambia, code-named Operation Restore Democracy, is an ongoing military conflict between several West African countries and some parts of the government of The Gambia, precipitated by President of The Gambia Yahya Jammeh's refusal to step down after the victory of Adama Barrow over Jammeh in the December 2016 presidential election.
Although there is no humanitarian crises in The Gambia, the Economic Community of West African States (ECOWAS) decided to intervene militarily in the Gambian constitutional crisis on 19 January 2017, as a result of Gambian President Yahya Jammeh refusing to step down after losing the December 2016 presidential election. The invasion was codenamed 'Operation Restore Democracy'.
On 19 January 2017 Senegalese forces entered The Gambia to ensure Adama Barrow assumes power as the country's new president. The United Nations Security Council unanimously expressed support for ECOWAS efforts to ensure Jammeh hands over power to Adama Barrow, but requested the use of "political means first" without endorsing military action. Gambia was placed under a naval blockade.
In the early hours of the offensive, clashes took place near the border village of Kanilai, the home town of Yahya Jammeh, between Senegalese and pro-Jammeh MFDC forces, and Senegal reportedly took control of the village. Following the clashes, Senegal halted its offensive in order to mediate the crisis one final time, with the invasion to proceed at noon on 20 January if Jammeh still refuses to relinquish power.
According to United Nations, several dead and around 45,000 people have been displaced and have fled to Senegal. Further 800 people have fled to Guinea-Bissau.
Here are reactions from around the continent on the invasion:
"A new ECOMOG, or as we now know it, U.S.WAFRICOM, or more correctly, WAMERIKKKOM." ~ Narmer Amenuti
"ECOWAS NEOCOLONIALIST PUPPET SCHEME FOR THE EURO-AMERIKKKAN IMPERIALIST ARMED INVASION OF GAMBIA: Here they go again: the loud-sounding empty barrels of the so-called "Ghanaian/African Left" and its "pragmatist" cheer-leading puppet-quislings of Euro-Amerikkkan Imperialism! Lots of booklong Eurocentric pseudo-academic clap-trap but absolutely no interest in doing WHAT IS PRACTICALLY NECESSARY to wage anti-imperialist democratic Struggle; and therefore always rendering "Apologetics" for Euro-Amerikkkan Imperialism, welcoming its interventions in Afrika for "Democracy" and its Genocide/Ecocide for the profitable rewards and awards they get to shore up their elitist flatulent petty-bourgeois and wannabe comprador bourgeois egos! While they join in calling upon and clapping for Euro-Amerikkkan Imperialism in changing its puppet administrators of Neocolonialism in Afrika with ballots and/or bullets, they cushion themselves in comfort bubbles looking for bribes, rewards and awards from their masters and their agents and collaborators, and even credentials from foreign organisations, while nothing improves for the overwhelming impoverished masses of our Afrikan people at home and abroad, in spite of their globe-trotting trips! When will the basic lesson get drummed home to Afrikan progressive forces that the most primary DEMOCRATIC STANDPOINT for peoples subjugated to the colonial or neocolonial yoke of Imperialism is Anti-Imperialism? When shall we learn that we must allow our Afrikan people to exhaust all posssibilities of peaceful resolution of our conflicts and contradictions, even take up arms by ourselves as the very last resort, but absolutely without being the ones to invite Euro-Amerikkkan Imperialism and its African stooges to "help" us with alien armed forces and weapons, for which we end up paying lots and lots more not only with our material and cultural resources but also with the innocent lives of our Afrikan poor! Yes, Yahya Jammeh is a clowning tyrant whose time in office has run out as decided peacefully by the people of Gambia themselves! Afrikan people all over the World have the capability of helping the people of Gambia to effect peaceful change without blood-letting "assistance" from Euro-Amerikkkan Imperialism! When shall the progressive forces of Afrika desiring Peace learn to courageously fight independently for it with Justice unto themselves and the masses of their own Afrikan people and their true allies even in the reformist but dignified ways of Martin Luther King…?" ~ Kofi Mawuli Klu
"Unfortunately this is the only kind of language these mad men understand. I hope Jammeh isn't taken alive! No need to waste tax money on a trial, HE IS GUILTY!!!" ~ Atiga Atingdui
"It should calm now the excitable passions of people gunning for military intervention in Gambia who think a short glorious war whatever that means will win them prestige from some neocolonial masters. They should do well to remember that there might be Gambians like the Cubans of The 1983 US invasion of Grenada who do not like the buffoon ruling them but will prefer to have the issue solved peacefully and that they might actually pick up arms to defend their country with tenacity and willpower. Anyone who thinks a large military force necessarily wars is joking. A military intervention in the Gambia will not achieve the purpose of stabilizing the country. It will rather destabilize it." ~ Gbemela Kobla.
"If the fervor to invade Gambia could be directed towards Boko Haram. Will be nice!" ~ Narmer Amenuti.
"You cannot defeat Boko Haram. But you can invade The Gambia. Tswia Kai!" ~ Narmer Amenuti.
"IF THE "ECOWAS" HAS THAT.MILITARY POWER WHY DON'T THEY USE IT TO DEFEAT THE TERRORIST GROUP KILLING SO MANY PEOPLE IN NIGERIA? OR IN SOMALIA? ARE THESE "leaders" SERIOUS ABOUT INVADING GAMBIA??  DO THESE "leaders" HAVE AN UNDERSTANDING OF "RULE OF THE LAW"?? THE GAMBIA LEGAL SYSTEM IS ANALYSING A REQUEST MADE BY ONE CANDIDATE….ECOWAS NEED TO STAY AWAY AND RESPECT THE WORK OF THE GAMBIAN LEGAL AUTHORITIES. PEACE AND STABILITY. NOT DESTRUCTION" ~ Alex Akoman
Submit your reactions and concerns in our comments section!