Josephine Baker's extraordinary life and career can sound like a work of fiction. Growing up dirt-poor in Illinois, she became one of France's most glamorous entertainers from the 1930s.
Yet Josephine and I, Cush Jumbo's new one-woman show about Baker at the Bush Theatre in London, sets out to be more than a mere biography.
Before discussing Josephine and I, its star and writer Cush Jumbo addresses her own memorable name. "It does intrigue people," she says.
"The surname is from my Nigerian dad. And the Cush is because both my parents were really into Egyptology and Kush was an important kingdom in ancient times."
At 27, Jumbo has already created a stir in plays at the Royal Exchange in Manchester such as Pygmalion and A Doll's House. She was also nominated for an Olivier for playing Mark Antony in an all-female Julius Caesar at the Donmar Warehouse in London.
Josephine and I is the first piece she has written. Its origins, she says, lie in her childhood.
"I was eight or nine when I first saw Josephine Baker on TV. I already loved watching Fred Astaire and Ginger Rogers movies, and then one Sunday afternoon I caught Josephine's film Zouzou on Channel 4.
'She was a star'
"It was in French and I had absolutely no idea who she was, but I was hooked. Even though Zouzou was made in 1934, I felt I was looking at myself in a mirror.
"I'd never felt that with the white, blonde movie stars I'd seen in the past. Here was a black woman who wasn't playing a maid or a nurse or a subordinate character. She was a star."
Three years ago, Jumbo sat down to write a play about Josephine Baker. "But it was like a straightforward biopic on stage," she explains.
"It told the story of how Josephine escaped poverty in East St Louis through her talent as a dancer and entertainer. The script more or less ended when she arrived in Paris."
There is plenty to dramatise in Josephine Baker's early life. Born Freda Josephine McDonald in the poorest part of East St Louis, it is unclear who her father was.
From her early teens she was dancing on stage. At 15, she moved to New York City.
As the new show relates, Josephine was the gawky dancer at the end of the line who played for laughs. It was the other girls who were employed for their physical glamour.
Yet Josephine's stage ability was obvious, and at 19 she accepted a contract to perform in Paris for far more money than she was getting at home.
"I think we've avoided looking back and making everything totally political for Josephine," says Jumbo. "I suspect her motivations for leaving America were mixed.
"At one level, I'm sure she was overjoyed that someone had offered her a lead part in Paris and she jumped at it. I know that feeling myself as an actress – a big chance comes along and you can't afford to say no.
"But she had also seen the terrible East St Louis race riots of 1917, and of course she was aware of the Jim Crow laws active in the South. She felt she wasn't going to get much further as a black woman on stage."
Self-invention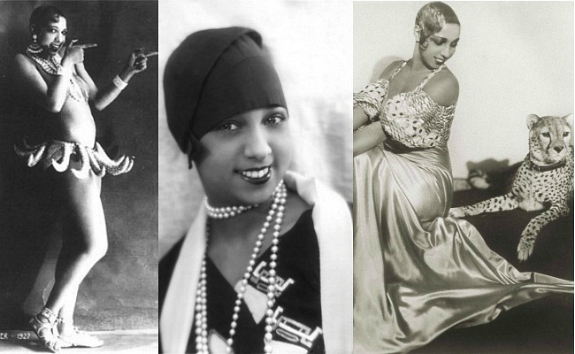 Born poor in Illinois, Baker went on to be a famous dancer and actress. Jumbo brings elements from a modern actress's life into the story.
Working with Phyllida Lloyd, director of Mamma Mia! and the Donmar's Julius Caesar, Jumbo built some of her own experiences into Josephine and I.
The show draws out parallels with Baker's career, so her recreation of Baker's life on stage is continually interrupted by discussions of her own complex life in London as an actress hoping for a big role on American TV.
Jumbo contemplates how pleased her boyfriend David (described as "an environmentalist") might be if she actually gets the part. We even meet Henry, Jumbo's dog.
Yet the audience is never quite sure how much of this is true and how much is a performance.
"[The character of] The Girl is a facet of me," says Jumbo. "I would say around 85% of what she says on stage would also be true of my own life. But that doesn't mean it's me."
The play's bigger point is probably that Josephine Baker, even more than most performers, was a total self-invention. Josephine and I plays with the audience, just as she did.
"When Josephine came to France she spoke barely any French and was basically a dancer. But she was smart and she quickly re-invented herself as an actress and singer. Only a few years later she was appearing on screen in Zouzou opposite Jean Gabin.
"If you listen to interviews she did with American journalists after the war, she adopted a French accent because she thought it would be exotic and more interesting.
"But then when she talks to the BBC in the '50s she uses a very posh English accent. In some ways she was outrageous."
Josephine Baker died in 1975 at the age of 68. "The arc of her life", says Jumbo, "is fascinating.
"I could have done a show about Billie Holiday or Nina Simone who are better known. When I told people of my own generation I was working on this show, there was no one who knew who Josephine was.
"That struck me as something that needed to be addressed. She's an absolutely revelatory person, who I think a modern audience will love."
Josephine and I runs at the Bush Theatre in London until 17 August.
By Vincent Dowd — World Service Radio