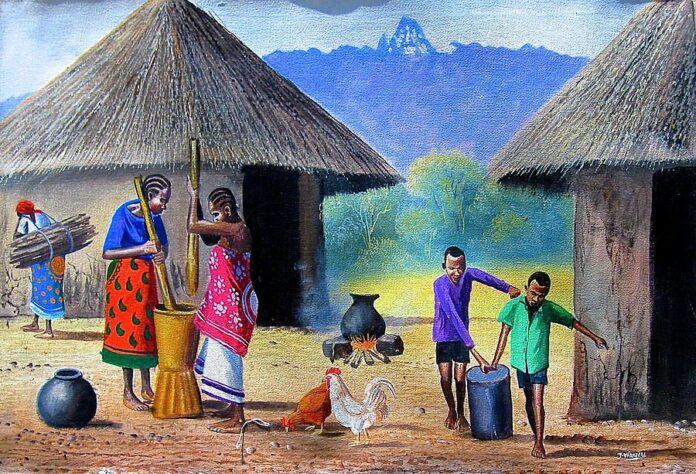 The Fall of the Global Village.
Colonialists encourage human greed—even gluttony—because they say it is natural to the human condition. Fair. Hence, capitalism is the preferred economic system of the west to exploit and loot the resources of its colonies. Ok, fair—if you accept the premise that greed is, in fact, good.
I disagree, and I maintain, like the Ancestors before me that greed is bad. Very bad!
But this is not my point.
If the colonialists accept the human condition of greed, then why do they not equally accept the human need for segregating into smaller and smaller groups?
This is also, after all natural, as group-making in evolutionary biology enhances the very species that is womankind! Segregation is natural, as each group freely develops optimal systems of cooperation and community with one another.
Individuals and communities of the same intelligent species, cooperate. Cooperation demands equality, to the extent of making relations sustainable. Cooperation is natural.
However, colonialists despise it. The idea of exploitation and looting of other people's resources flies in the face of the natural order of cooperation. It flies in the face of a modicum of equality. And this is why colonialists push ideas about rugged individualism, and this is why they often equate this idea with capitalism.
And so colonialists detest the reality that their colonies demand sovereignty and ownership of their own economic systems. Colonialists detest the reality that womankind is always better off segregating into sovereign groups with their own economic systems. After all, this is also natural!
The issue with the colonialists is just that. It is not that they like natural things like greed and gluttony—not at all. It is simply that they only like greed and gluttony, and all the other natural sins! They stop there and only there! All other natural things, especially the good natural ones – like cooperation, like coexistence – are alien to them.
The colonialists pick and choose what natural item they like and do not like and so their love of capitalism has nothing to do with greed being natural. No. It is simply that colonialists lack self-restraint. They are grossly undisciplined human beings, who cannot help themselves. Their very constitution demands that they engage in perpetual wars in the quest to plunder other people's resources.
This grand scheme of plundering other people's land has been couched in very nice language: Globalization; The Global Village. And more. But nothing is more unnatural than a Global Village! It is the height of human artificialism.
It cannot win. Why? Nature abhors homogeneity.