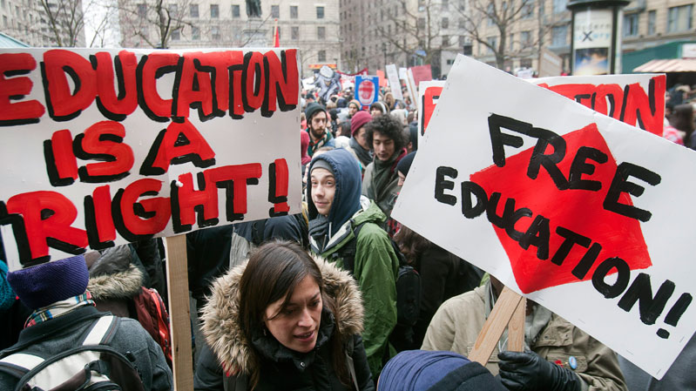 In reference to an essay on Truth-out.org entitled: We Are All Students: The Meaning of "Free Education", Friday, November 24, 2017, By Paddy O'Halloran, Truthout | Op-Ed.
As an educationalist, I do not take the matter of free education lightly. On one hand, the accomplishment by students in Germany, for example, for free tertiary education is laudable. I wish the Chilean students well—all those who protest on the streets day and night putting pressure on their government for free education policy. That said, the hesitation in the pursuit of free education in the United States of America on the other hand is race-deep. The question, "Is there a way to think about education for all that goes beyond state-led initiatives, and which has potential for articulating free education within a popular movement?" remains answerable up to a point. The answer is "yes," it can be done, but up to a point. In fact, up to the point at which the students protesting graduate and are no longer students in the American sense.
When a person stops being a student, finds work and lives in America, he quickly realizes that race plays the most significant role in the kind of job he gets, how fast he is promoted, what position he is promoted to, what loan he gets for his car and house, what neighborhoods he can afford, how many times he's stopped and ticketed by cops, whether he ever goes to jail, whether he's ever out of work, goes bankrupt, and what schools his children attend, and eventually, what college they end up attending. The wages of whiteness here favors none other than those who refer to themselves as whites. How then can we be all equal students in "We Are All Students?" if the reality after school remains a deeply racial one?
In one sense the author advises that social transformation through affirmative action within universities vampirizes movements for equality in society itself; side-stepping his glaring belief, in my opinion, that more aggressive actions, especially by government, to social transformation starting from universities, are counter-productive. But then how can we think of everyone as "we" and "us," in this "political subjectivity" movement for social transformation if the adoption of diversity, inclusion, and multiculturalism are not ideal or even pragmatic, particularly at the level of the university? What then could be ideal or pragmatic in a collective student struggle, even in a university environment, if not that we must strive to be all-inclusive, diverse and multicultural in the way and manner in which the general population stands in equal color? How can we achieve an "ideal" without aspiring to the very ideal—if not even by force?
What many white educationalists in America who deride active and forceful government policies that level the racial field in university admissions want is free but "fair" admission to colleges. And by "fair" they mean by "our" rules. And by "our rules" they mean by our "white" rules, like only SAT scores, not a combination of SAT scores and athletic ability for instance. What these educationalists want is free education for those they think qualify, for instance those who have better preparation on the SATs and nothing else. So, if the history of college admissions serves us any direction in life it shows that what white people actually want is not a bunch of Blacks attending college for free, else we would have already seen racial equality in fee-paying college admissions across the entire country that is America. If the history shows that these universities would not admit Black students who can pay, why expect the future in the same country to do otherwise when it becomes especially free?
When Black students bring up these issues, you have educationalists referring to "pipeline" issues that point back to their obsession with "fairness." Statements like, "If only Black students qualify, they will be admitted," show a lack of perspective towards inequality and the racial blockages inherent in the proverbial pipeline. At what point along the pipeline is America ready to remove the puss of racism and freely admit students into schools according to their diverse talents? Obviously when it comes to finding Black students to play football for million-dollar university teams, for free, there isn't a pipeline issue, but when it comes to just finding Black students to attend university, there is a pipeline issue? Why? If the proposed "We Are All Students movement" finds it difficult to accept the urgency of affirmative removal of the "pipeline" blockages that prevent Black students from accessing university education, then they will entirely miss the point of their social transformation and they will alienate a Black student movement that also want to fight for free tertiary education.
For this reason, the statement from a man supposedly fighting to make university education free that universities "will never be engines of social transformation," and that "such a task [according to Kelly] is ultimately the work of political education and activism," is silly. And I mean no disrespect by it. For Kelly to stress that change "by definition… takes place outside the university," dulls the subject of social transformation after all. It waters down the need for "change now," to a lower level of "change within the shortest possible time" and then further waters it down to "change one day!" If free education must be first accomplished through social transformation—if those who changed society did so outside the university setting, without actually being technically students themselves—why refer to any movement thereof as a "student movement?" As a Black student once quipped and twice have I heard this: "How can you expect me to march in Alabama to change Jim Crow, to change the entire South, when the government that professes equality before the law can actually equally admit my children into the state university my tax dollars fund? Why wait until I have changed the entire South?" Ultimately, it seems, the author, like the vast masses of white America, wants change, but he wants it slowly, and he certainly doesn't want it when it goes to benefit those he refers to as Black who might be instant beneficiaries of a free and fair education policy in everyone's interest—and in an immediate manner!
To this point, all of America struggles to accept policies that benefit everyone—even policies that largely go to reward "whites"—because it will actually also benefit Blacks! American policymakers are quick to enact into law and into social policy any piece of legislation that goes to benefit white students, and whites in general, but fail to come to the very same laws if Blacks stand to even benefit slightly from it. Affirmative Action policy only becomes acceptable in American culture when it goes to reward a disproportionate number of white women, at the expense of bridging the racial disparities in educational achievement it was first idealized to accomplish. Mass Incarceration laws are quickly passed because it is Black men who must go to prison! And so, even if the loans for tuition in American universities remain high, guess who gets the cozy jobs after school to pay them back? Whites. Period. And this is the final analysis of the race-deep society that America remains. America remains a deeply racist country and what Black students, for example, fear is that white students, might stay "We Are All Students" for four years and quickly realize after a job after school, how yummy being white in America is after all. It is by these wages of whiteness, by this white privilege in America that the racial status quo has been maintained or has been replaced with equally pernicious ones, if not more pernicious ones, for Blacks and for other minorities.
In ending however, I shall quote W.E.B Dubois who came to this bitter insurmountable realization about American society, about why social transformation remained a daunting task in American society in general—how much more for a transformation at the highest levels of [white] intellectual work.
"The colored people of America are coming to face the fact quite calmly that most white Americans do not like them, and are planning neither for their survival, nor for their definite future if it involves free, self-assertive modern manhood… The great mass of [white] Americans are, however, merely representatives of average humanity. They muddle along with their own affairs and scarcely can be expected to take seriously the affairs of Blacks, strangers or people whom they partly fear and partly despise."
Free education is a laudable policy for any country, but for America, I am afraid it cannot happen, for the race-deep animosities imposed on American culture by white supremacism have far-reaching consequences that prevent worthy social policies from being enacted. Most [white] Americans, and this includes most white American students, cannot bear to see a significant number of their fellow Black citizens, their fellow Black students, enjoy a free education, without harboring an irrational fear and a histrionic scorn for them.