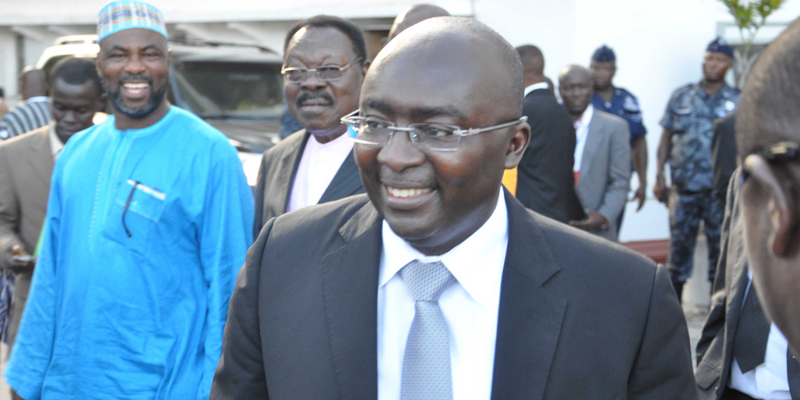 The 2012 vice presidential candidate of the New Patriotic Party and second petitioner in the ongoing election petition challenging President John Mahama's legitimacy, Dr. Mahamudu Bawumia, has been told he could face perjury charges.
Bawumia who is also star witness in the Supreme Court hearing of the petition by him and two other NPP members – Nana Addo Dankwa Akufo-Addo, NPP flagbearer in the 2012 elections and Jake Otanka Obetsebi, NPP chairman, wants the court to overturn the Electoral Commission's victory verdict it returned for President Mahama in the 2012 polls.
He was told during cross examination Thursday by Mr. Tsatsu Tsikata, counsel for the ruling National Democratic Congress (NDC) which is third respondent in the case, that he stands liable for perjury.
"Dr. Bawumia, I actually reminded you previously that you swore to tell the truth according to your faith on a holy book and I just remind you again that you defile the holy book as you tell untruth to this court. And I also remind you at this stage Dr. Bawumia, that you stand liable to the crime of perjury for things that you say that are false on oath whether they are in an affidavit or whether they are in the witness box."
Mr. Philip Addison, Counsel for Bawumia raised an objection, saying his witness was being threatened. "My Lords, now my witness is being threatened. I don't know if it is the province of counsel to make these statements to witness. It is not, and I see it as a threat to the witness."
Bawumia himself did not agree to Tsatsu's suggestion, just as he refuted another suggestion that he was misleading the court by presenting more than 11,000 pink sheets some of which were "duplicated and triplicated" as exhibits filed before the court.
"That cannot be the case My Lords," he said, explaining that "if you were doing that, that will reflect in your analysis. It's not the numbers of pink sheets physically that matter as far as the mathematics is concerned, it's how many pink sheets you're using in your analysis. And our analysis is very clear – 11,138 pink sheets and you can see each polling station, no duplication."
Tsatsu who had led Dr. Bawumia to admit to a number of duplicated pink sheets filed among the petitioners' affidavits, insisted that the exhibits Bawumia and co had filed in the court only looked like they were more than 11,000 because they had been "duplicated and triplicated" as well as "quadruplicated" deliberately to mislead the court.
"There will be no purpose My Lords, to duplicate, triplicate or whatever to give that impression because it wouldn't affect the results of the analysis."
Tsatsu shot back and insisted, "You did that, you deliberately did that to mislead the court about what you were offering in evidence before this court."
"No, no, no, My Lords. Definitely not. You may actually be misleading yourself but as far as I am concerned, we are not misleading the court."
The court resumes sitting on Monday, May 6, 2013.