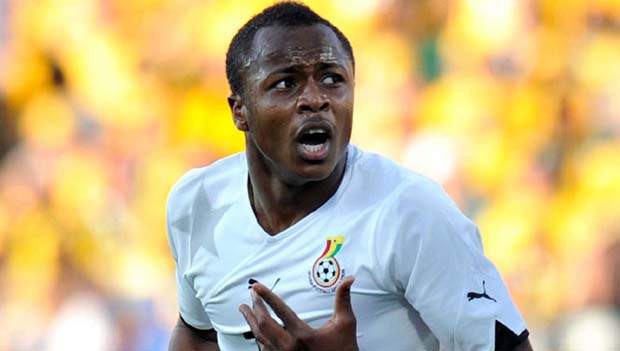 It may be rude, and perhaps disrespectful, to throw back at a prominent member of the once indubitable Black Stars squad of Ghana.
But, when the ex-Ghana star, Sarfo-Gyamfi doesn't see the need for the Ghana Football Association (GFA) to lure the services of the Ayew brothers, and Dede Ayew in particular, he falls short of recognizing and comprehending the complexity of the modern era of football.
The outspoken former stalwart of the Kumasi Asante Kotoko Football Club claims the Ayew brothers do not possess "any special qualities on the field of play" to warrant a need for a GFA courtship. Well he is summarily wrong!
Sarfo-Gyamfi seems to be disillusioned by the sheer presence of soccer players in Ghana. He seems to harbor a belief, however crazily crafted and misinformed, that Ghana has an abundance of football talents that the current coach of the Black Stars, Kwesi Appiah, could easily employ and be successful.
"Go for such hungry players who are ready to die for the national cause," cries Sarfo-Gyamfi.
Alas, what national cause? Which players? Who has died more for country in modern times than Dede Ayew? Who has played on more legs than Dede Ayew?
Let's recall that he has at the youth level starred for and captained the Ghana under-20 team that won both the 2009 African Youth Championship and the 2009 FIFA U-20 World Cup.
At senior level, Dede Ayew since making his debut on 21 August 2007 against Senegal at the New Den Stadium in London, has represented Ghana at the 2008 and 2010 editions of the Africa Cup of Nations and the 2010 FIFA World Cup where, except for an Asamoah Gyan missed penalty opportunity at the stroke of full time, this lad's illustrious contribution to the national team would have sent the Black Stars into the semi finals.
Not to mention, Dede Ayew, on 16 December 2011, a day before his 22nd birthday, was named the BBC African Footballer of the Year for 2011.
Dede Ayew therefore is no scrab, he's not like any other player. He's certainly not a bench warmer and as far as fooball is concerned, he can do as he likes and pleases so long as his production on the Black Stars team continues to be as formidable as it has always been.
Sarfo-Gyamfi wants to mock this young lad? That Dede Ayew "does not play on four legs?" How preposterous? No matter how many legs Dede plays with, and continues to play with, he has been more illustrious than Sarfo-Gyamfi can ever imagine himself being.
I don't recall Sarfo-Gyamfi ever qualifying for the world cup. And I don't recall Sarfo-Gyamfi ever winning a world cup!
It is timely that this story is breaking at the back of a long forgotten Black Star dominance in African Football. Hence, now that the entire hullabaloo about Ghana's supremacy in African Football is finally out the window, we see more clearly that football in Ghana has not improved since Nkrumah built it.
In fact without Nkrumah, Ghana would probably not have won those four trophies it quickly amassed before many African countries were able to get independence and get their acts together. Those trophies remain aberrations in African Football unless Ghana is able to win a trophy as soon as possible.
To this end, the abysmal showing of the Ghana Black Stars at the 2013 African Cup of Nations warrants a purposeful performance at the upcoming world cup in Brazil. Otherwise, Ghana will decay fast into the doldrums of soccer minnows.
So let's call a spade a spade. Young footballers like Dede Ayew and the many younger ones that have represented Ghana in the FIFA Under 17 & FIFA Under 20 World Cups are the only glimpses of football geniuses that our younger generation can relate to. And all we can continue to hope in.
In this modern era of Ghana football, Dede Ayew stands taller than any footballer I know. So shut it, Sarfo-Gymafi!
All I gather from Sarfo-Gyamfi is a bitter man, a man whose former Kotoko team mate happens to be the Black Stars coach for now, and who seems shortchanged by a Ghana Football Federation that lauds Ayew's father's (Abedi Pele's) exploits over any ones'. And rightly so!
Abedi Pele may not have won the African Cup as captain of the Black Stars, he may not have taken Ghana to the World Cup, but his son has!
Further, Abedi Pele continues to be the greatest player out of Ghana – whether you like it or not. That much is not up for debate, unless of course, you are a morone!