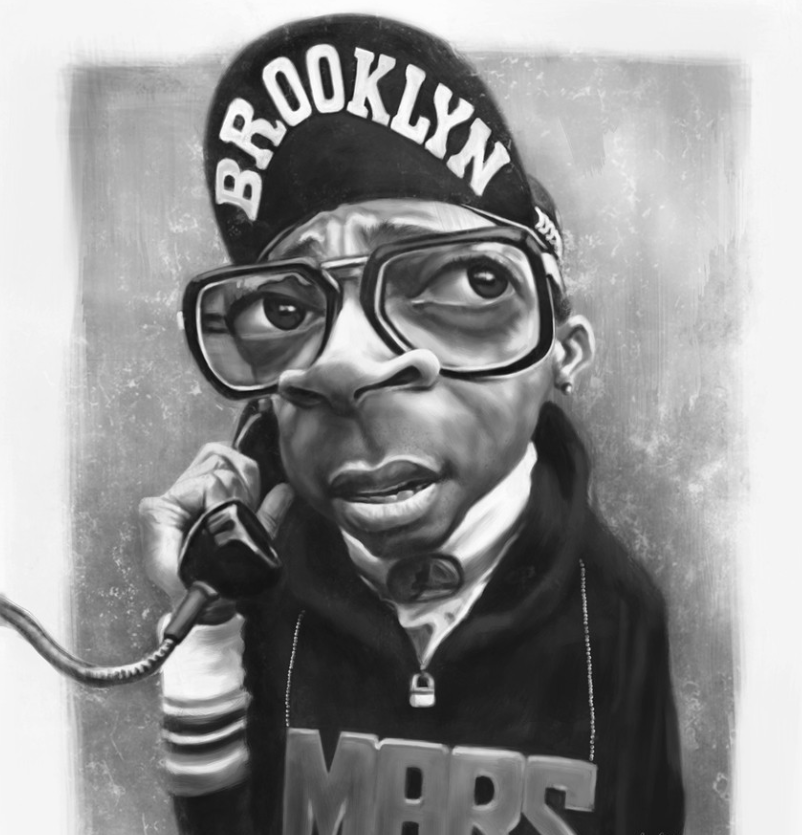 I never thought I would use the words "Spike Lee" and "Kickstarter" in the same sentence, but there it goes. If anything, Spike Lee will go down in history as implementing the most creative financing.
His grandmother helped fund She's Gotta Have It (1986). When Warner Brothers refused to increase the budget on Malcolm X (1992), Lee solicited funds from various influential folks in the black community – Bill Cosby, Oprah Winfrey, Magic Johnson, Janet Jackson, and others – to complete the film.
And now you too can be part of the Spike Lee Joint guerilla financing tradition.
Lee professes:
"When you Love what you do it's not a job, it's something you would do for free because it brings True Joy to your Heart and Soul. When you are blessed to do that especially if you're an Artist it can bring those emotions of the Human Experience to your Audience (if you are Lucky). The catch is Filmmaking is an Artform that costs M-O-N-E-Y.
That is why I'm appealing to the Kindness in your Hearts, to the Faithful who have given me the much needed Love and Support over my 3 decades of Spike Lee Joints. You have been there from BACK IN DA DAY with my Feature Film debut SHE'S GOTTA HAVE IT (1986) to the present with RED HOOK SUMMER. Your support has been instrumental in helping to launch the Film Careers of Halle Berry, Rosie Perez, Martin Lawrence, Queen Latifah, Samuel L. Jackson, Giancarlo Esposito, Tisha Campbell, Jasmine Guy, John Turturro, Robin Harris, Anthony Mackie, Mekhi Phifer, Kerry Washington, Bill Nunn and Delroy Lindo who were showcased in my Films…I Can't Do This Without you…
This Joint, which YOU THE PEOPLE financed is gonna be HOT and DAT'S DA TRUTH, RUTH… This Will Truly Be A Community Generated Spike Lee Joint. YA-DIG? SHO-NUFF."
Lee is asking his fans to donate 1.25 million to make his next indie project about human beings who are addicted to blood. It's "a funny, sexy, and bloody film that's not Blacula" (1972).
"This film is a BLOOD THRILLER. It's about people who are not Vampires but nonetheless are BLOOD ADDICTS. It's also a Psychological Thriller. It will work on several different layers. The Audience will be scared, but there will be good amounts of humor too. Like in most of my previous work I like to mix stuff up."
Buying a piece of the Spike Lee production is like buying a piece of history. Literally.
The prizes include autographed postcards, rare posters sheets from classic Spike Lee joints, even autographed Nikes worn by Spike. I guess that works if you wear his shoe size.
If your pockets run deeper, you can receive a personal phone call, be an extra in the film, or sit courtside with Spike at a New York Knicks game. More than 20 backers thus far threw down the hefty $10,000 price for this latter treat.
Though some people believe that Kickstarter should be off limits to Hollywood directors who've been making films for almost three decades.


Spike, however, is adamant that he is not violating any successful celebrity code. He lists other celebs, Veronica Mars and Zach Braff, who have successfully used Kickstarter.
And he doesn't believe he's stomping on the little guys…
[sws_blockquote_endquote align="" cite="Spike Lee" quotestyle="style03″] In no way shape or form is my seeking funding on Kickstarter hurting Young filmmakers seeking financing. That was one of the first questions I asked the Co-Founders. Yancey and Perry both told me that was not the case and I proceeded.
Going into this I was well aware that there would be Haters. They were Hating that an established Filmmaker (Worth 40 Million – A LIE) would be on Kickstarter. But I have every right as anybody else. I'm an Independent Filmmaker and I wanted to try this. [/sws_blockquote_endquote]
Visit Spike Lee's Kickstarter page to nosy around, hate, or donate.