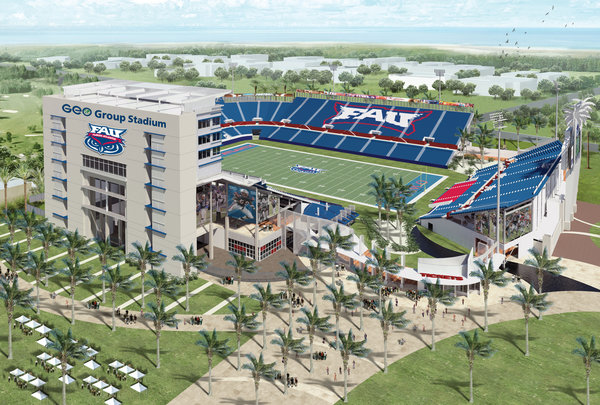 AUGUSTA, Maine, USA – In the U.S., sports and prisons are two industries that have no shortage of money. When these two ventures collide, we see a partnership emerging such that students at Florida Atlantic University can now remember their Saturday football games knowing that funding from a prison corporation made all their tailgating and hangovers possible.
The business of buying a company's name on a stadium isn't a novelty. Sports teams have sold stadium rights to the point where nearly every stadium is a billboard advertisement. In Philadelphia, the Lincoln Financial Field is home to the Eagles and the Wells Fargo Center seats 76ers fans. You couldn't even watch January's Bowl Championship Series (BCS) college football game between Notre Dame and Alabama without a pesky reminder that it was sponsored by Discover. That pesky reminder even butted itself in on commemorative T-shirts.
And now private prison companies are cashing into the sports industry.
According to a New York Times article: "GEO Group reported revenues in excess of $1.6 billion in 2011, income generated mostly from state and federal prisons and detention centers for illegal immigrants. The company owns or runs more than 100 properties that operate more than 73,000 beds in sites across the world. It holds nearly $3 billion in assets."
I'm not sure which fact is more troubling: that a university has no qualms about going to bed with a private prison corporation or that a private prison corporation is openly flaunting its surplus wealth? Since when did prison corporations need a marketing strategy?
There seems to be something unethical, although not illegal, that private prison companies have millions to spare, let alone a need to advertise, on a sports stadium – much less a university stadium. Even Exxon Mobil has learned to whisper its quarterly earnings.
And does this mean that Florida Atlantic University supports and even endorses the private prison systems – marred by human rights abuse and wrongful deaths and opposed by civil liberty and human rights groups?
Something tells me FAU needs to strengthen its business ethics department.
But perhaps there is a lesson here to learn about how you too can put your name on a university stadium.
With job growth stagnant and government opportunities for work dwindling – the U.S. Postal Service cutting mail delivery on Saturdays would immediately slash 18% of the postal workforce – private corporations are the way to go. The prison industry in the U.S. is booming, holding 25% of the world's prisoners, while the U.S. only holds 5% of the world's population.
If you, while running your small or large business, employed workers on a pay scale that averaged $0.12-$0.40 cents an hour, maybe you would have enough money to donate $6 million to put your company's name on a stadium.
Suffice it to say, the road to being a billionaire does not pass through medical or law school – it passes through the prison system.