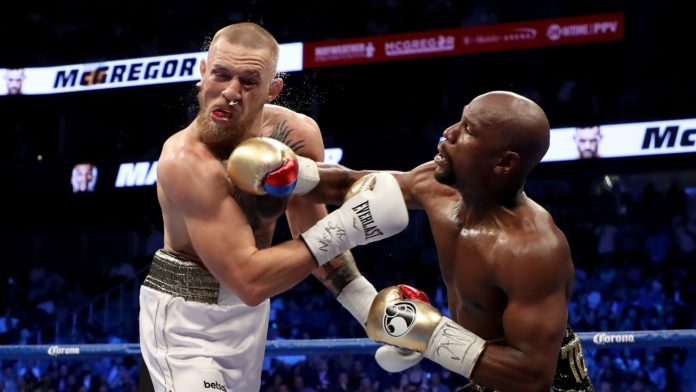 "White supremacism has taken you to bed when you think a white man with no experience and education can do better at a Black man's job. Shame on you! Shame on America." ~ A Quiet Boxing Fan.
So, shame on you!
Shame on you, if you thought an Irishman with no boxing experience was going to step foot into a boxing ring and beat an African American legend from Detroit, Michigan. Shame! Shame on you. Look at you?
"You are 29 years old, and Mayweather is 40, but there you are giving excuses on tiredness when you clearly shouldn't even be there in that ring in the first place. Look at you—29 years old and wilting under the ferocity and invincibility of a retired boxer! Look at you?"
Pathetic.
A couple of years ago, a white woman from Riverside, California, was actually encouraged by U.S. media giants to up the ante on talks to fight and "beat" Mayweather. The manic build-up, spiteful words and chaos that ensued on social media matched almost all of what transpired between Mayweather and this Irishman before the actual fight.
How pathetic of the world? How sinister of the United States of America, where a Black man's standing must be questioned by unqualified people who call themselves "white"—male and female. Trump and Hillary!
What? You think boxing is American democracy—where Trump must come and teach Obama a lesson in good governance?
The only lining in this punishment that Mayweather has dealt the Irishman is that: Mayweather, throughout his career, has found a way to turn white supremacist anger and hatred into cash money. The more Mayweather was hated by these cranks, the more of their "freely" printed money he took home. Mayweather turned white hate inside out, for his own show, and with that to fully find a way to live comfortably in a racist America!
The African American came out of retirement for a potential $300m (£230m) pay day. This "enterprise is the pièce de résistance of the genius hatched by Mayweather and scaled to stupefying proportions by enigmatic advisor Al Haymon, the Harvard-educated former concert promoter who seldom appears in public and never speaks to the press. They both figured out long ago that more white fans would hand over their scratch to watch him lose than to watch him win and they rode the formula to more than $1bn in revenue based on an inconvenient truth: there will always be a market for some in America, and in Europe, for the possibility of watching an unapologetic Black man, a boxer, getting beaten. For Mayweather, comeuppance never came. And now, surely, it never will."
All that to say that the facts of the daily threats of white supremacism on African American manhood in America cannot be over-emphasized.
So, shame on you—all you who actually thought an under-qualified Irishman could actually step into a boxing ring and beat Floyd "Money" Mayweather! You lost and you will always lose! What losers!