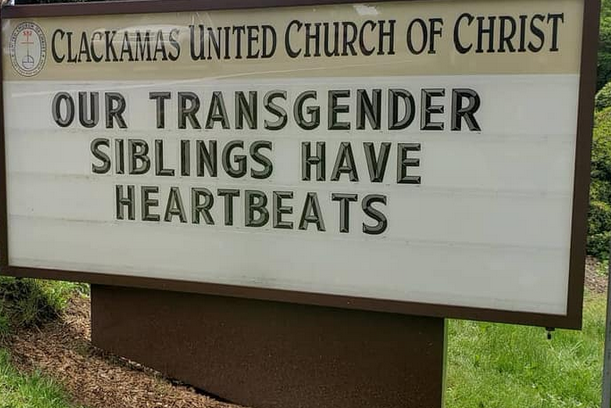 Countless verses in Christian literature dictate dire consequences for men who sleep with other men, women who sleep with other women, men and women who fornicate, and or commit adultery and some. Virtually every action under the sun has some consequential impact on the actor. More definitely, the consequences of not obeying the Christian literature, i.e. the Holy Bible's commandments (by choice or destiny), is the ultimate punishment of being cast away in Hell fire by Jesus and Father, God.
The same Christian literature, especially the New Testament, preaches often about love and forgiveness, with the exception of God's Hell-fire-spitting punishment. As for Hell, the sinners have it coming, and even Jesus cannot intercede on behalf of Moses on judgment day. But for love, some parts of Christian literature preaches aplenty. Even love for transgender sisters or brothers (although not explicitly anywhere in the Bible stated).
To many, this seems a contradiction of the texts. In some respect it is so: a Holy Bible that speaks of a scrutinizing, paternalistic, angry and murderous God, yet a forgiving Hell-fire spitting God, is certainly a temperamental Book written by a temperamental God. A contradiction in terms. Some people might also think: a God of double identities (from the Old Testament to the Gospels)—who is suffering from a multiple personality disorder of some sort.
However, a careful examination of the texts reveals a God who loves only those he identifies as "Chosen" and resolves to destroy all those who are not his children. This rationale resolves the contradiction in the minds of some Christians. And so the idea of "God's children" is left for any preacher and believer to define for themselves. So the people of Clackamas United Church of God have proceeded to embrace transgender people as the kind of people that their God might spare from Hell fire on judgement day while he kills all those who commit adultery.
Let's get this right: God in theory loves those who choose to do with their bodies how they feel (our transgender siblings) but, the same God will kill (and send to Hell) others who do with their bodies how they feel (our fornicating siblings)? Another contradiction arises: Does this God love his own children or not? Hence the problem with dealing with a God with probably a multiple personality disorder is just this: No human reason can comprehend the actions of a God made up, or plagiarized from other Gods, by unintelligent men, who lived several millennia ago.
The notorious problem with some Christians however is that they are resolute on defending this God to the death. Literally. They ask that we all convert, repent, die, and resurrect to become believers in this God who enacts judgement at will and dishes out perpetual Hell (literally) as punishment for having sex with a man or woman we love. The Christians at Clackamas would tell us that God loves the transgender sibling and then they turn around in the same breathe and proclaim that God will send our fornicating siblings to Hell. What God!
Baffling! Won't you say? What a God!