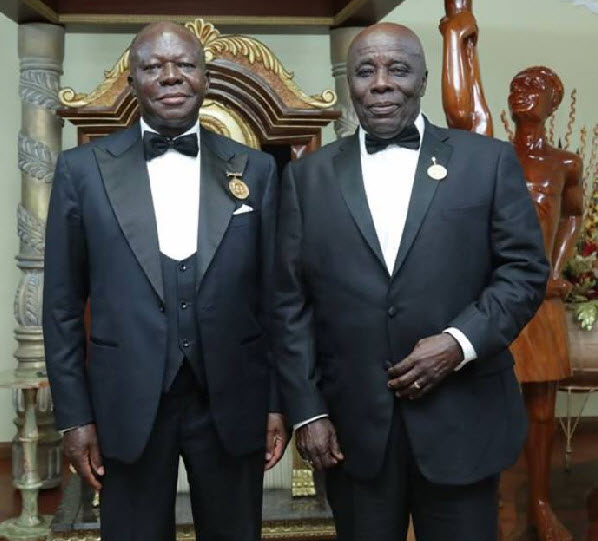 There's a reason why all leaders of Asante swore to never cross River Pra into Akyem territory—after all its founder, Osei Tutu, was shot in his canoe by a small battalion of Akyem soldiers while crossing River Pra. Foremost, the ritual of "Non-Crossing" was to honor the memory of the founder of Asante. Better, the beatification of Non-Crossing was to remind all leaders of their certain vulnerability in treading unprepared on unfamiliar territory.
There's more… Not only was Osei Tutu I shot on the River while he rode in his own boat (built by some of Asante's renowned boat builders), he was actually beheaded there. Our oral history has it that he was led into an Akyem ambush. (Osei Tutu's linguists never wrote down a single thing hence the details of that bloody encounter remain forever lost). So much beheading took place on that boat on that river that day that only a couple of Asante royal guards were spared (out of the King's whole entourage) to return to Kumasi with the news.
Whether one believes it or not, the messengers reported back to Asante's elders that Osei Tutu was so horrified by the cunning (either of the Akyem or of other Asantes who betrayed him to the Akyem) that before he was beheaded, he cried: "Ankah me nim a…" (Had I known is always at last.)
Of course.
Osei Tutu having regretted not heeding the call of his Chief Priest, Okomfo Anokye, to remain in Kumasi or to fully arm himself at all times (to be prepared for the worst) with the full force of Asante's Army while deployed in unfamiliar territory.
The message of Osei Tutu nonetheless, rings true even in modern Ghanaian politics: The first president of the republic of Ghana, Kwame Nkrumah, was overthrown (through the cunning of a terrorist foreign security agency) when he left behind his seat unprotected while traveling in another man's territory (Vietnam). Nkrumah is also reported to have repeated Osei Tutu's advice while domiciled in Guinea: "Ankah me nim a…"
Of course.
Although Nkrumah was spared a physical musket shot, plus an actual beheading, he still suffered from the mental and emotional shot of his overthrow until his real death in a foreign land. Such is the end of leaders who leave their seats unprepared: they die in foreign lands.
Osei Tutu's advice then can be re-examined in light of a recent decision by the sitting Asantehene to break with the tradition of Non-Crossing.
There's a reason why customs emerge. There's also a reason why customs and rituals like Asantehene's Non-Crossing, are broken. More precisely, there's also a reason why a leader of one nation might travel to another man's territory, and tread on unfamiliar territory.
What's the reason? And how might the leader prepare for it?
On Thursday August 24, 2018, the current Asantehene, Otumfuo Osei Tutu II, broke with the spirit of custom. He broke with the essence of tradition. He broke with paying homage to the founder of Asante. He broke with his swearing in to all of Asante. He did not cross River Pra in a boat (built by his best craftsmen) per se. He crossed the River Pra in a V8 Toyota Land Cruiser, over a road-bridge, with a certain entourage, some of whom rode along in Mercedes-Benzs, V8 Toyota Tundras, Toyota Land Cruisers, and Roll Royces.
Some Ghanaians, including some Asantes, were impressed with the dazzling mechanical beautification of the Crossing. If one must break with a manual-canoe beatification, the current Asantehene accomplished it with a mechanical-Benz beautification.
But alas! None of these Asantehene modern "boats" of crossing into Akyem was the handiwork of an Asante builder, however. In fact, none of Asantehene's entourage included any remnant of a battalion of Asante's famed Asafo (Armed Forces) who once terrified the British and scared away Britain's mercenary African armies. This is three hundred years since the founder was killed on River Pra. This is after trillions of gold, diamonds, bauxite and cocoa have also been sold to colonialists. Yet, not a single modern "boat" of Asantehene's breaking with tradition was actually forged in a Kumasi "boat-making" house.
In fact, the Ghanaian tax payer had to foot the bills of the services of a colonial establishment, police officers to be exact, to escort this "modern day Asantehene" into Akyem. The Oyoko clan's Asafo is no longer anywhere found. The last known Asafo who fought alongside the Queenmother of Ejisu, Nana Yaa Asantewaa, against a terrorist colonial army, probably died in 1954.
Speak of breaking with tradition in essence alone. Speak of the total disregard for ritual. Speak of treading in unfamiliar territories unprepared. And when the Asantehene presents himself to the national audience, standing together with the Okyehene Amoatia Ofori Panin, he dons what can only be construed as a colonial imposition on the consciousness of the mis-educated, a black three-piece tuxedo and a bow-tie. In Ghana.
Of course, the Asantehene's very missionary mis-education, and, or, his continued breaking with tradition, demands it.
Taken together—the idea of an Asantehene riding along in a Japanese or German-man-made overland "boat," wearing a colonial terrorist's dress—crossing into Akyem Abuakwah, if even to make peace with his ancestors, does not evoke warm feelings of a moving forward, but of a numbness rooted in total regression: An act of erasing what it actually meant, just three hundred years ago, to be Asantehene: proud, ingenious, innovative and brave, even in the face of colonial terrorism.
As if this deep-seated double-consciousness could be spared for a moment one may ask: What's the reason for the crossing?
The Asantehene broke with his traditional institution (Asante's famed Chief Priest's advice once again), not for some laudable reason of erecting an Asante Technical Institute (to perfect the building of boats), but to be the guest of honor at a durbar hosted by the Okyehene, Amoatia Ofori Panin (a man who calls himself Osagyefo, or savior), to climax the 75th Anniversary of the late King of Akyem Abuakwa, Nana Sir Ofori Atta.
And there you have it: What examples! The custodians of our traditions, the enforcers of our pride and the representatives of our bravery now accepting the lowly positions of "Sir" bestowed by foreign Kings and Queens of colonial terrorism. The more-educated-than-his-ancestors, the Metha, now serving as Kings in Ghana are incapable of understanding that the title "Sir" actually means that you are now subject to a colonial terrorist who brags at her diner table of tormenting your own people. Speak of treading in unfamiliar territory unprepared.
Traditional Kings no longer understand what it takes for the building of institutions and the making of image toward the building of strong nations. "Sir," and the subsequent honoring of "Sir," even after some 75 years, is their new aspiration. Durbars, for partying sake, have become the new reasons for breaking with tradition. Speak of treading in unfamiliar territory unprepared?
And there you have it, the impact of our debilitating colonization lies complete in the beautification of an Asantehene's river crossing with a land cruiser, wearing a terrorist British tuxedo.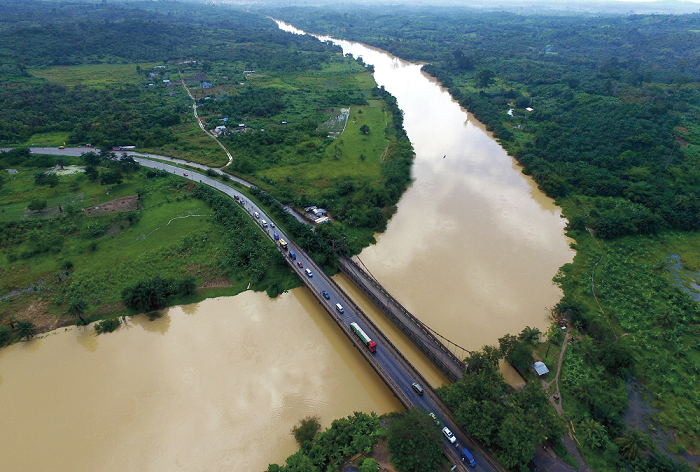 Although one would be remiss not to mention that the handsome well-mis-educated Asantehene couldn't possibly bring himself to crossing the River Pra in actual fact. It is not because he cannot swim, or the fact that he is incapable of paddling a canoe or rowing a boat himself. The serene waters of the River Pra—which his ancestor crossed and died crossing, his blood dripping to the fishes below, and his last words echoing the phrase, "Had I known—" has turned even bloodier. The new terrorists in town, the Chinese, have done so much "killing" of the land and so much "beheading" of the future generations of this land through Galamsey (the Chinese call it mining), so much so that River Pra is more like a gutter than an actual River.
So never mind that to break with tradition, the Asantehene opts rather to ride along in foreign-built "boats," safe from the splash of dirty Pra-waters; away from the cancerous fishes; out of sight, and out of mind.
The beautification of a Crossing may appeal to many, but the seeds of Asante's own destruction have been planted through the love for treading in unfamiliar territory (breaking with tradition) rather unprepared, at home and abroad. Shall we uproot the germinated weeds or watch them grow like a cancer? Or shall we one day, like the founder of Asante, also cry out, "Had We known!" Or yet, shall we heed his cautious wisdom and charge like a mighty nation, forward, and fully-armed with our "magical amulets" and body armor?