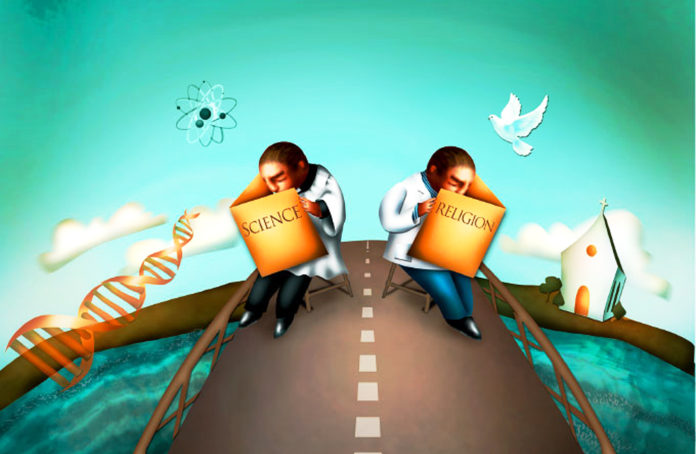 Those who believe that religion is well-defined and easily recognizable will be shocked to hear that world systems of belief are not always what they seem. Our deities come in all shapes and widths, masks and costumes. There exists no one-size-fits-all-god that universally satiates the inner faiths of all people.
So we have separate gods.
Some gods are for the deeply down-to-earth who are entranced by sunsets, who tread barefooted through grainy sand, who go umbrella-less in the rain. Some gods are for those who prefer bare expressions and barer closets.
Even intellectuals, whether actual or aspiring, who claim agnosticism have their gods—though most are unwilling to refer to them as such.
For many, science is such a god. It holds awe-inspiring faith, religion, hope, and fear. It creates and destroys. It is respected and revered.
Science is worshipped. People sit in labs for long hours on end, performing rituals with beakers, burners, petri dishes, and test tubes. Their efforts, they hope, will be returned with fruitful results. As Manna from heaven, statistical significance is divine.
When nature runs its course, disrupting human activities, scientists everywhere turn to their god.  Humbled by the "force" of nature, they ask questions and seek answers. And answers they find, through reading, research, results, and replication. In any religion, practitioners engage in processes of conversion. They become part of the group when they have performed these rites. Their membership is celebrated.
In the face of wrongdoing, science and its practitioners ask for forgiveness. When a drug, over time, is found to do more harm than good, the religious community beseeches citizens to forgive the error. The research was once wayward, but now it has found its correct path and beckons citizens to follow it once again—keep the faith after all!
There is danger in not acknowledging that science is a religion.
People are circumspect when religious enterprises become too wealthy. Conspicuous mega churches, like pastors with luxury cars, are readily noticed and critiqued for their financial excess. But hospitals with multi-million dollar renovations, like medical doctors with multiple McMansions, unlike those in the business of "true religion," are not evaluated with the same scrutiny. When science is an invisible god, we do not ask its peddlers about their riches.
We allow millions and billions of currency in wealth extraction in the name of science. Our governments, with taxpayers' moneys, support science. We become literally indebted to science each time we dig in our pockets for coins to purchase prescription drugs. We pay tithes to religious institutions in exchange for protection and service in much the same way we pay for science to preserve our health and well-being.
For some reason, though, some do not label the preservation of health and well-being that traditional medicines provide in the same magnificent reverence, but call it some magical religion of mixing potions. The work of a pharmacist, who studies the contemporary version of potion-mixing, is however professional and scholarly. The contradictions in terms that aim to insulate modern science from its obvious connections to past customs are widespread and far-reaching.
Modern science and the traditions of Imhotep that preceded it have some linkages, but the differences far outweigh the similarities. Most pressing is the difference in aims and means. Traditional medicine actually aimed to cure people through the means of observation and learning—the Imhotepic Oath. Practitioners of traditional medicine, for instance, would observe animals and plants to understand how the natural world could be used for good, though without disrupting the perfect world order of things.
On the other hand, practitioners of modern medicine aim not to cure but to control populations and enrich themselves. Modern medicine is less concerned with curing people, but only to keep people in need of cures. The money is not in the cure, because if people are well, then they no longer need to pay for treatment. So the aim of modern medicine is to arrange increasingly costlier hospital visits, to keep people going to hospitals, to administer vaccines that need multiple rounds of injections each year for decades, to prescribe drugs that people consume for lifetimes—that is the only way that modern medicine can achieve its aim of maximum monetary gain, of wealth extraction from the majority to the few.
The beneficiaries of a religion are rarely the ones who stand sweltering on sidewalks to pass out brochures to passersby. Those who preach of science's lofty rewards are unwittingly peddling a religion that exploits more than it saves.
And it does save. There is no denying that a successful heart transplant extends the life of a ninety-year-old politician through the next election. However, we rarely pose the question: what is the true cost of a single successful surgery?
Placed under its own microscope, the means of modern science are cruel and unusual to the detriment of nature and to human existence. One only needs to consider the sheer number of bodies that are ripped apart, experimented upon, and discarded to justify a mere "scientific discovery." One only needs to consider the number of human and animal rights violations that occur to secure blood, organs, and appendages to be harvested and kept in banks. One only needs to consider the vast biochemical, nuclear, and radioactive wastes that science produces and their harm to planetary sustainability.
All this violence is masked when science is imagined as an objective activity in search of truth and not a god with its own religious followers. The destruction and brutality that is found in science cannot be justified with the claim that it happens in the name of humanity and morality. It is only justified, illogically, in the way that devotion to a violent god, no matter the outcome, can be irrational if connected to tribal affiliations and religious exceptionalism. In this way, science draws its similarities with religions that blindly drive practitioners to commit unspeakable acts that would otherwise be condemned or sanctioned.
Science as god and religion should be made explicit in order to subject the discipline to real scrutiny and to admit its shortcomings. We first have to acknowledge modern science, a clandestine departure from the Imhotepic tradition, as the religion that it is before we can genuinely understand and improve its endeavors and bring it back in tune with nature and humanity.