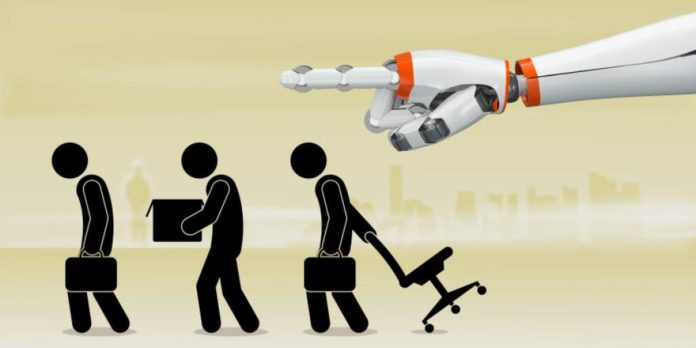 Mass hysteria abounds when people discuss the role of robots in our future. The prevailing wisdom is that artificial intelligence in the name of robots, if not actually becoming intelligent and masterminding our governance, will at least take over our jobs and consequently our livelihoods, leaving little for man to do except twiddle his thumbs while awaiting his pizza delivery from a cyborg.
This concern for artificial intelligence–at a latter stage of our lives when we are vying for fewer and fewer jobs in a competitive marketplace–arrives far too little, too late. Hardly are we cognizant of the initial entrées of robots into our lives and the myriad ways we entangle our very selves with their existence.
The conflict with robots does not start when they beat out our carefully composed resumes for coveted positions; the reality is that robots enter our lives much earlier.
Robots bounce and rock our children to sleep when our arms are full or just tired. They toast our bread. They wash our dishes clean and boil our rice to al dente perfection. They direct us on a journey across town. They alert our attention to errors in papers and blog posts with squiggly red lines. They fan our bodies cool during the hottest of temperatures and heat us before we shiver.
Now, if we are particularly adventurous, they water our plants or turn off and on our lights from a distance. It is perplexing to actually contemplate how many tasks we have delegated to robots.
Their reliability is what we champion. With adequate charging or the correct size batteries, they rarely let us down. Their margin of error is considerably less than what we would expect if we assigned these tasks to humans, which impresses us dearly.
Robots have become normalized in our lives. As everyday fixtures, we have come to appreciate their efficiency and regard them as necessity.
In fact, we have developed a physiological and psychological dependency for our robots. A comforting massage chair knows just how to work out the kinks in our shoulders to relieve stress. A high-tech expresso machine validates our high-class status.
In turn, our robots have developed social lives, intertwined with our own. They have become part of the household. At times, we discuss them as we would the houseplant or the family dog. To an alien observer from outer space, all would seem superfluous, but in our own perceptions they define our kismet, which makes us inseparable.
Somewhere down the road, rhetoric emerges that robots are superseding us, that we need to halt their takeover. However, those pleas that robots are displacing humans from employment recede, with little ado, from the public and private consciousness with a resounding mum.
While there remains no counterclaim to the line of thought that underscores the ubiquity of robots, the impetus to act evades us. Why?
By the time the capitalist or imperialist or globalist moves for robots to usurp all spectrums of human activity, conceivably from the workforce all the way down to reproduction, we have already developed a grave and debilitating ethical conflict of interest. Subconsciously this newfound attack on robot workers registers on a personal level. If I reject the robot cashier, must I reject the robot dishwasher too?
The case against robot workers cannot be won with logic when humans (now framed as workers) generously accept robot-friends and robot-family members throughout the course of their lifetimes. The argument cannot retain any sincerity, if we do not scale back reliance upon robots in normalized capacities.
Devaluing human labor at home makes it easy to disregard its importance in the workplace. In choosing personal convenience and pleasure, our robots at home, we are unwittingly submitting to the replacement of our livelihoods, our robots at work, and whatever other substitutions avalanche down that slope.
If not from the origin, at point A, when is the best time to excise robots from our lives? At point X, when they began washing our cars? What about point J when they started brewing our coffee? Much like conversations about abortion, any attempt to define a timeline for acceptable use devolves into a wasteland of perpetual debate. The line between utility and overreach is blurry and indecipherable.
The true conflict with artificial intelligence comes with the robotization of things in our everyday lives, so much that it becomes difficult to later justify its estrangement. If we fail to worry about our robots' unnatural takeover of life's daily tasks—the very tasks that make us grasp the tangible essences of human existence—we cannot maintain the appropriate distance from robots to articulate a stalwart position against the future presence of artificial intelligence in the workplace.
Only by diminishing our tolerance and appreciation for robots' accomplishing our mundane tasks, will we be able to take back our lives and livelihoods as human beings. Overcoming the real threat of artificial intelligence requires that we roll up our sleeves and tackle the hard problems, without seeking automated answers.