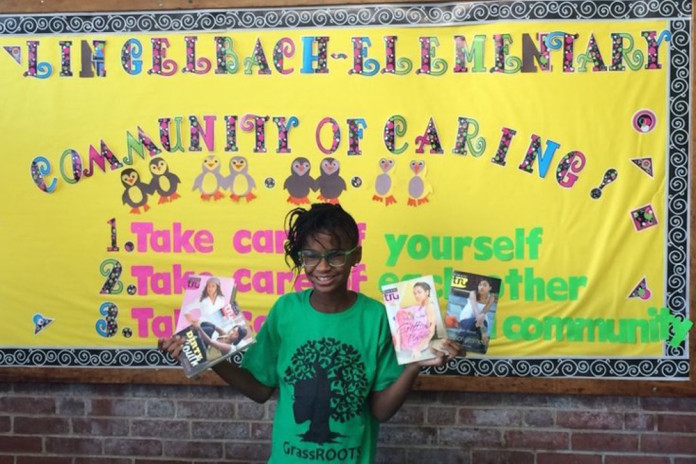 "I was sick of reading about white boys and dogs," Marley Dias told her mother one day over dinner. In school in the U.S., Marley's teachers constantly assigned books on limited topics with monochromatic stories.
Marley's mom responded: "What are you going to do about it?"
Out of this frustration, the 11-year-old launched the book drive #1000BlackGirlBooks. She set out to collect 1000 books by February 1. "I told her I was going to start a book drive, and a specific book drive, where Black girls are the main characters in the book and not background characters or minor characters."
Since Marley's mother Janice grew up in Jamaica, it wasn't until Marley expressed these thoughts that Janice realized the importance of cultural consumption in her child's development. "For young black girls in the U.S., context is really important for them — to see themselves and have stories that reflect experiences that are closer to what they have or their friends have."
While engaging in her project, she has discovered many new books that she loves to read. Among her many accomplishments, Marley has recently launched a book club.
In the spirit of giving back to their roots, the books will be donated to schools and libraries in St. Mary, Jamaica, where Janice grew up.
"I'm hoping to show that other girls can do this as well," Marley said. "I used the resources I was given, and I want people to pass that down and use the things they're given to create more social action projects–and do it just for fun, and not make it feel like a chore."
Let's hope that thousands of girls follow in her footsteps and curate libraries for their fellow boys and girls. Lucky for us, when the adults, the so-called leaders, refuse to take care of their children, the youth–even at age 11–are up to the task.
Marley has bright plans for her future. "I want to be a magazine editor for my own magazine. And I'd also like to continue social action. For the rest of my life."
Anyone wanting to donate books to #1000BlackGirlBooks can send them to GrassROOTS Community Foundation, 59 Main Street, Suite 323, West Orange, NJ 07052.