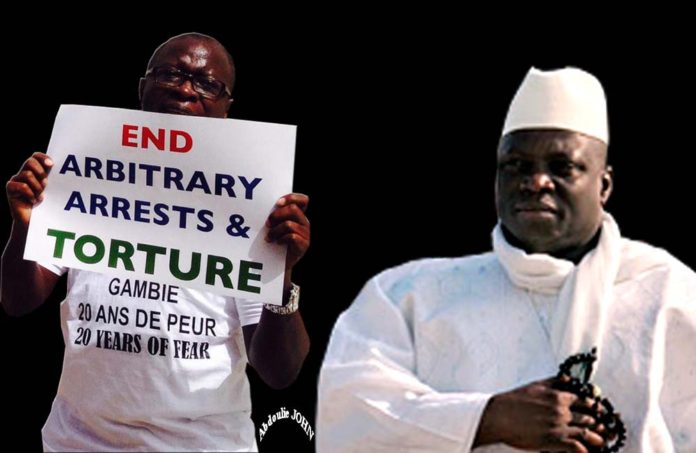 TIMBUKTU — This is to inform you that another political prisoner Mr. Ebrima Solo Kurumah was reported dead on Saturday August 20. Mr. Kurumah died in the early hours of the morning when he was taken to hospital for an unsuccessful surgery on his head. He was in his sixties.
Since July, Kurumah has been serving a three-year sentence for engaging in a peaceful protest against the death of a fellow party member Ebrima Solo Sandeng and the subsequent jailing of his party leader Ousainou Darboe. In jail, Kurumah and his fellow detainees had been denied medical attention, and news reports are now indicating that the operation on his head was in fact conducted without the knowledge and permission of his family. Kurumah's death will be the second known case of death of a protester in state custody since April this year.
Background
The late Kurumah was part of more than 50 members of the opposition UDP party who were arrested on May 5 and imprisoned between 3 to 7 years for unlawful assembly. They are members of the opposition UDP.  They were arrested in Banjul as hundreds of Gambians would camp outside the courthouse where another 18 mainly top executives of the party were being tried following their own arrest on April 16. That arrest also followed by another protest on April 14 when about 30 youths of the party staged a peaceful protest for electoral reforms and respect for human rights.
The paramilitary force descended on the protesters and detained all of them. The following day the party leader Ousainou Darboe got news of the torture and rape of the protesters with their leader Ebrima Solo Sandeng killed and hurriedly buried in an unknown location. It was this news that prompted Darboe and his party executive members to march to the police station to demand the body of Sandeng, death or alive. No sooner had they began their march than the paramilitary arrested all of them.
Since April 16 they were detained at the maximum security prison until July 21 when all of the 18 persons including Darboe were sentenced to three years in jail for unlawful assembly. Kurumah and his group were then also sentenced the following week.
The situation in the Gambia
Presidential elections are due on December 1. As at now, tens of Gambians have been under detention since April. Among them are many women who were subjected to rape and denied medical attention or visits from their families and lawyers. While some have been jailed for 3 to 7 years, others remain in detention without trial. Meanwhile Pres. Jammeh has refused to entertain any form of dialogue, and responded to the killing of Solo Sandeng with nonchalance that it was not a big deal to make fuss about the death of one person! He has called the opposition animals and enemies of the state, etc.
On July 29 Ms. Tina Faal, a leading member of another opposition party, GDC was arrested and detained for days before being taken to court on August 1 which granted her bail. Yet on August 8, state agents re-arrested her from her house, despite her bail, and dumped her in the state maximum security prison, Mile 2. Until today the 62 year-old woman and a former parliamentarian remains languishing in prison.
Meanwhile, on August 14 unknown arsonists set fire to the headquarters of the ruling party in the greater Banjul Area. This followed attacks on about 3 stations of the state petrol company. Media reports have indicated that some people have now decided to resort to acts of violence against the regime in order to force Pres. Jammeh to step down before December.
Gambians remain divided on the issue of elections. While others hold the view that elections remain the only viable and peaceful way to bring about change, others strongly hold that by law and practice, the electoral field is severely skewed against the opposition in favour of Pres. Jammeh. Thus their view is that by going to elections it would only legitimize the regime and set the stage for more repression and clampdown against the opposition and dissidents.
In light of the foregoing, I strongly urge again that the international community must urgently focus on the Gambia as the country is definitely sliding into violence.