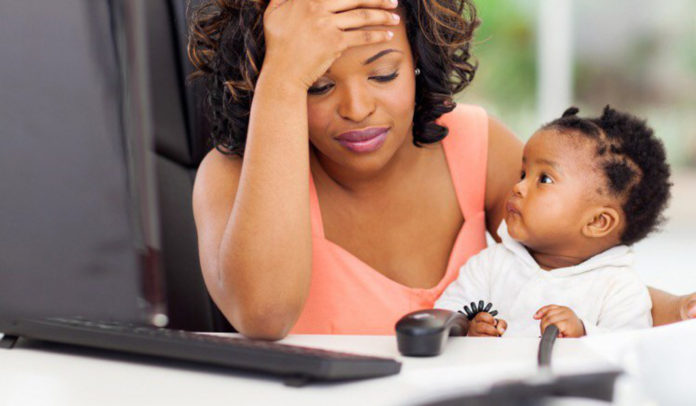 Let me tell a story. There's a woman I know who has a young daughter. Let's call this woman Ajara. The fellow who would be known as the child's biological father skipped town at the news of the pregnancy. He had no interest in the birth of his own child, much less in co-parenting with the mother.
No doubt, he did not have a strong enough extended family unit to pressure him to doing the right thing and being responsible. So he did what irresponsible men (and sometimes women) do. He aborted the situation and moved to live elsewhere. He decided he didn't want a child, at least for now, and blocked them out of his memory.
As expected, Ajara took umbrage at his irresponsibility. His I-don't-care-ism left her newborn baby without a father present and gave her the sometimes embarrassing, sometimes vulnerable, sometimes soul-strengthening single mother label. His departure made her a default member of a growing club of women for whom television shows and rhythm and blues songs are written. It made her a beneficiary of policies that are meant to hoist women out of tough times, so that children, who are by nature bundles of joy, do not become societal burdens.
There is a certain immeasurable might and resolve that any woman or man must have if shouldering the responsibility of being the sole adult in a household and concurrently the sole caretaker of one or more children, with little or no help outside of that household. To prevail under such a predicament is tough, as the situation is simultaneously incredibly tough, mentally taxing, and physically testing.
These individuals, I do understand to embody the true role of a single parent and should be commended for doing so. Their children should be forever grateful at the sacrifices that their parents made to rear them into adulthood. And even those parents who are the only source of economic, psychological, social, and moral support for their children face challenges that most could hardly fathom.
But these individuals, the ones who truly go it alone, are rarely the subjects of single parenthood tales. Correct me if I am wrong. It is my guess that Ajara's story is more common.
During her child's upbringing, Ajara told everyone within earshot of her single mother label. Usually the story extended a layer of sympathy with the listener, especially when she recalled the biological father's detachment.
What Ajara left out of that story, however, is the village that supported her as a single mother. For most of her child's life, Ajara never had a home herself. She lived with mothers and fathers and grandfathers and grandmothers and aunts and uncles. And when she did not live with them, she might as well have been, because her child was always at their house.
With a strong support network of able-bodied adults, Ajara never paid a nickel for childcare. She rarely cooked a meal for her daughter, as there were so many hands in the kitchen to help. When her daughter needed a walk home from school or someone to watch her for a week when Ajara ventured into the world beyond her town, there was never a shortage of willing hands.
Nonetheless, Ajara made her situation out to be a tragedy. She bore the single mother label as if it had exacted some undue hardship on herself and on her child. She spoke of a father who was never around but conveniently omitted from the narrative all the people who were around.
Ajara's child had more support and more family surrounding her than I can imagine existed in any two-parent household. She benefited from the many adults in her life, though societal narratives would have you believe that single parents and the children who come out of such households should be psychologically broken.
Ajara's story is the experience of a single mother, but not in the tragic way I have told the lifestyle of a single mother unfolds. I usually hear the myths of the single mother and was appalled when I learned how many parents her child actually had. Ajara's child was blessed to have an extended network of love and support. If this is the case, why make the child's existence into a problem rather than a normal part of life? Why turn the story of love and support into a story of victimhood? Who does this benefit?
Certainly I wonder why the labels of single motherhood, fatherhood, or parenthood are always met with a sigh, a frown, or a soothing pat on the shoulder. I wonder if the label and the pity that accompanies it is teaching our children to frame their upbringing in a way that leads with misfortune rather than with cheer, as if they were birthed into a glass half empty existence.
Why not smile at single motherhood? It is motherhood after all.
As societies become more competitive and undergo strain, the realization will hit that the two-parent household model was a failed experimentation and that the multi-parent village model practiced by our Ancestors and many other traditional cultures worldwide is the ideal arrangement for childrearing. When we start calling out and respecting the efforts of the village in raising our children, we will all be better for it.