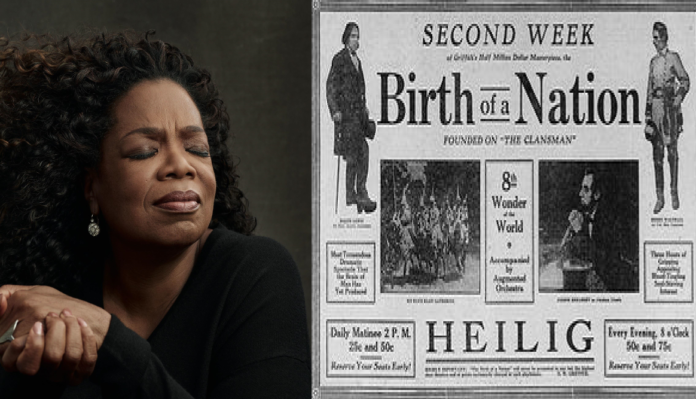 #MeToo vs. Oprah, On The Record.
Once the drive-by white mass media industrial complex realized that too many Caucasian men (particularly Epstein and Weinstein) had been ensnared in the #MeToo movement, they moved quickly to restore the fabricated myths of the "sanctity of whiteness" in America by focusing their attention on Black men.
In the US, their entire law is meant to entrench the supposed "sanctity of whiteness" and hence any narrative that runs against the grain of this belief system is either ignored or obfuscated with an agenda focused on exposing the supposed "fallibility of blackness." In other words, since white cannot be holy unless it has a reference point, the entire US (In)-Justice System is geared to accomplish one thing and one thing alone: to focus on, fabricate and distribute narratives about black "sinfulness." Hence the Mass Incarceration of Black People in America serves as a central socio-political tool for advancing such an outlook.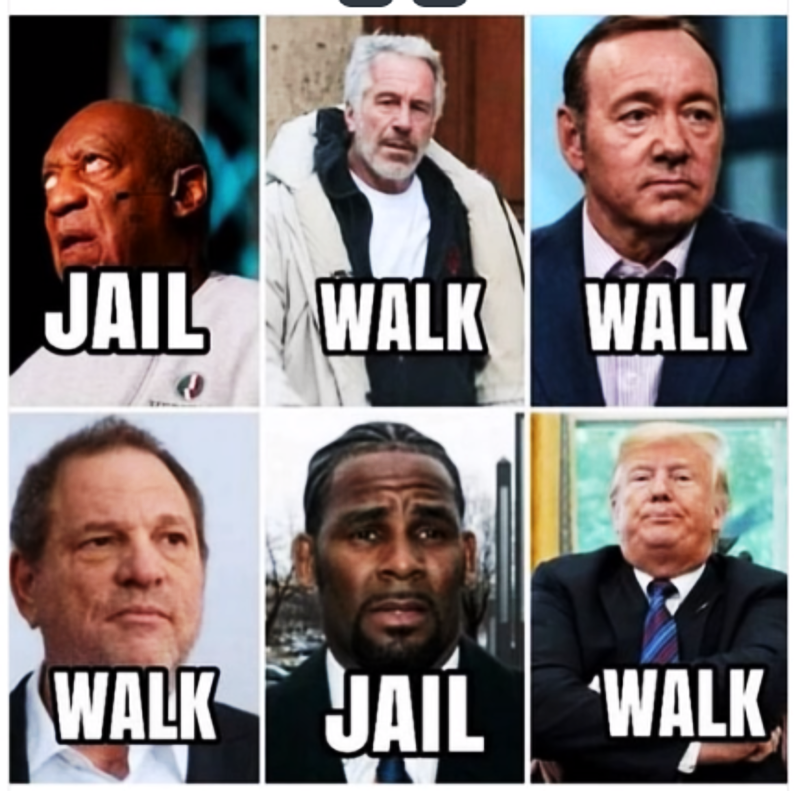 The #MeToo Movement, because it unleashed an avalanche of narratives of white sinfulness in the likes of Jeffery Epstein and Weinstein, it went against the grain of the narratives, doctrines and belief systems of white supremacism, or Nazism. Nazism is a patently anti-Black religious belief, and since the perpetrators of the rape and sexual assault (and abuse) of women that the #MeToo Movement uncovered were fellow Nazis, the direction of the movement needed to change or be changed.
Their motivation was a simple one: to enlist, as many as possible, as many Black men as they can find to paint the face of the #MeToo Movement as one about bringing Black men to Justice. According to white supremacism (Nazism), only Black men should be painted as evil, and the "sanctity of whiteness" will naturally ensue. Better if these Black men are famous. This way the vast majority of white people will only focus on, and recall the narratives of Black "sinfulness" and they will never question the truth about their fabricated "holiness."
To do this, (1) first, the white (in)-justice system together with their filmmaking crew exhumed their beloved O.J. Simpson, to finally punish him once and for all. (Simpson had been accused by the large masses of white people, without any evidence, for getting away with killing a white woman, his wife). More, the white (in)-justice system together with their filmmaking crew in Hollywood also disentombed the buried stories about R. Kelly. After that, (2) they moved quickly to incarcerate the white-made Black icon (Bill Cosby) and now (3) they proceed to publicly indict another iconic Black figure, Russel Simmons, in a new documentary, On the Record, directed by the famed Nazi-pair (Kirby Dick and Amy Ziering), and which is fully-funded by Nazis including Melissa Silverstein, founder of the advocacy website Women and Hollywood and director of the Athena Film Festival.
Furthermore, the Nazis had managed to enlist another famous Black icon (Oprah Winfrey) to give credence to their fabrications (documentaries). Without another iconic Black figure, the history of white violence in America and the history of white-media and white-government conspiracies against (famous) Black people would come under the microscope.
Oprah Winfrey at first gleefully supported the white-media fabrication until she quickly realized that the vast masses of Black people in America had lost all respect for her person. Oprah had underestimated the political, social and cultural intelligence of Black people and she was not aware that Black people knew that Nazis were at the root of the project to replace the Caucasian-male face of the #MeToo Movement (Epstein and Weinstein) with a Black face (R. Kelly, Bill Cosby and Russel Simmons).
Now, Oprah has pulled out of the Nazi hit-documentary against Russel Simmons to save some face, and to salvage whatever is left of her cache in the Black community. But the Nazis have gone crazy with Oprah's reluctance to ride with their Nazi-project. The white supremacist media has gone berserk after Oprah announced that she could no longer support the project to hunt down, incarcerate and kill another Black man, like Russel Simmons, all in the supposed name of bringing justice for victims of sexual violence.
Perhaps, Oprah has fully become aware that the documentary (the fabrication), On the Record, is no filmmaking for the truth at all, that it is a part of the wider Nazi-Hollywood project to exhibit and distribute another Birth of a Nation (a racist early 1900s Hollywood film portraying a white-man in Black face pursuing a white woman so he can rape her. The white woman jumps to her death to save herself from being raped by a white-man in Black face). The meaning is lost on the Nazis (D.W. Griffith and Thomas Dixon Jr.) themselves.
And so goes the story of the film, On the Record, the bold-face white-media lie has come to a head. The idea that all they wish is to "promote a rare examination of the experience of African-American survivors, a demographic" that according to white people in America, had "received scant media attention in the #MeToo era" remains a lie. We all understand the goal of the filmmaking: to replace what has been a damning revelation about the socio-political and religious shrouding of the sinfulness of (famous) white men (and of whiteness), with a forced fabricated narrative about the ubiquity of "Black crime" mirrored through the Mass Incarceration Industrial Complex.
The Nazis will continue to make whatever films they want, for they are violent and they bend not to reason. Although, suffice it to say, the rest of Africa America, as human and as peace-loving that they have always shown to be throughout their entire American history, will remain resolutely human, with the eye on the truth (and nothing but the truth) and they will remain focused on the reality of white supremacist machinations, fabrications, cheating, lies and utter barbarism. Oprah may have come full circle. Who knows!


RE: An Open Letter from Mo'Nique to Oprah.
Dear Oprah,
I felt compelled to write you this open letter after observing the disparity in the way that you seem to treat people, who were accused of the same allegations. You did an interview on the CBS Morning Show and were asked about Harvey Weinstein by Norah O'Donnell, and you said as it pertained to him that you "always try to look at the Rainbow in the clouds, whatever is the "silver lining".
You also said "if we make this all about Harvey Weinstein then we have lost the moment". When you either are, or were going to be a part of documentary on Michael Jackson, and Russell Simmons, how is that not making it all about them? Interestingly, Brother M.J. was acquitted, and deceased, so how is he not off limits? Russell and Harvey are accused of the same thing so in fairness how do you not "support" the accusers of both as you said you did with R.S. or you look for the silver lining for both like you said you did for H.W.?
The only difference between the two is skin color. [One is Black, the other is white]. Doesn't H.W. have way more accusers? My personal experience with you is that you've watched me as a black woman accused of being difficult for not promoting "Precious" internationally for Lions Gate (at Lions Gate, Tyler Perry and your request), despite the fact that my deal was with Lee Daniels Entertainment.
And, how are you for black women when you hear Tyler on audio saying I was right and he was going to speak up but you or him still haven't said a word? When I was sixteen and I meet you at your local show in Baltimore, I told you I wanted to be just like you when I grew up. You responded, "You have to work really really hard." My sixteen year old self didn't know that you could be silent in the face of wrongdoing, and that this could make my life "harder". Lastly, please consider standing by the people who are right and not just the "right people". Love you to life.
Mo'Nique.