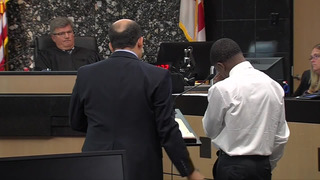 Look what happens in America just days after an African American judge in Texas forgives and hugs a Caucasian murderer:
"A Florida juror has been sentenced to 10 days in prison after he overslept and missed the start of a court case. Deandre Somerville [an African American], 21, of West Palm Beach, was chosen to serve on a jury in August. But on the first day of the trial he overslept by at least two hours and failed to notify the court. Judge John Kastrenakes [a Caucasian American] held him in criminal contempt, also imposing 150 hours' community service and a $223 (£180) fine as well as the jail term."
You see, forgiveness is surely and only a one way street. The sooner you stopped buying into the idea that forgiveness makes the world a better place the better the world itself would become. There's no place for forgiveness in the affairs of terrorism, murder, rape and racial economic deprivation. Tit for tat.
The thing is that twisted Christian paralogism has blinded so many of you. The Devil, or Satan as you love to call him, can tap you on the shoulder for just a tad bit, but you are conditioned to ask for the maximum punishment for the Devil. The Devil should even be punished for looking at you! The Devil should be sent to Hell fire for attempting to ask you a question.
But as for Yahweh, he can kill all your children; he can capsize your canoe; he can make a shark swallow you in his belly; he can bring you disease, plagues; Yahweh can bring you any kind of suffering he likes, but you will never ask for punishment for Yahweh. You keep forgiving Yahweh no matter how irresponsible he has been to you! You follow Yahweh turning the other cheek to be slapped again and again; you follow Yahweh turning the other bottom, butt, to be raped and sodomized yet again and again!
And then you ask the question: Who is this Yahweh you worship? And who is this Satan you hate so much? It turns out that for the More Educated than his Ancestors (the Metha), especially in Africa, Yahweh is rather the rapist, the murderer, and the colonizer who bombed, and blew out, the nose of the Sphinx. Yahweh is whomever gave the Metha a printed pamphlet called the Bible to replace Vodun. To the Metha, Satan is Vodun, Satan is this brothers and sisters in the belly of the slave ship.
For this reason alone, Yahweh will continue to enslave the Metha until one day, Onyankupon willing, the traditional African, the one who has had the balls to follow in the African Prophetic Tradition, no matter the dangers, might survive and free the Metha of his mental discombobulation.