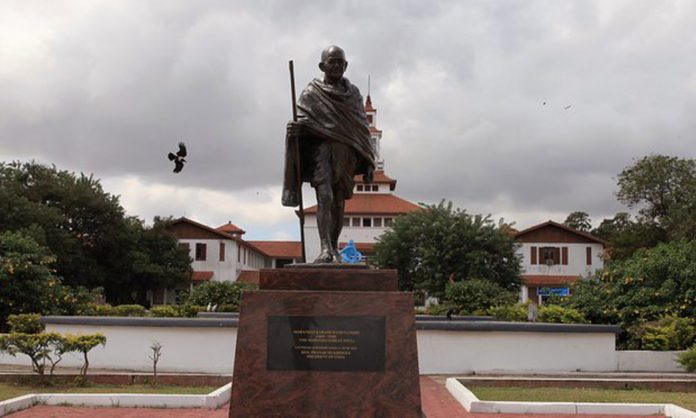 From: GB Singh
Date: September 22, 2016 at 1:47:25 PM MDT
To: Dr. Obadele Kambon
Subject: Re: Gandhi's Statue at the University Of Ghana Must Come Down
Dear Prof. Kambon,
I googled your name and learned about your background. I salute you, the faculty and so many people of Ghana for standing up to this insult at black people by way of racist Gandhi statue.
This insult has a history. Back in 1980's, the Indian Govt. started to funnel money to erect Gandhi statues in the West and then to other parts of the planet in a major fashion. I have been involved ever since to stop this nonsense. Later my untouchable brother Dr. Velu Annamalai joined me and we together were successful at times to stop these statues from being unveiled. I can cite you one example: Morehouse College in Atlanta.
Ever since my first book (Gandhi: Behind the Mask of Divinity) was published in 2004, the movement to stop these statues of Gandhi have picked up (see www.gandhism.org ) and so has the change of tactics employed by Indian Govt. to sneak in the Gandhi statues. What happened at your university campus is the latest phase of sneaking in.
We have a historic opportunity to dismantle Gandhi statues; let University of Ghana be the first. The Gandhi statue at Martin Luther King Jr. National Historic Site in Atlanta is both illegal and unauthorized. I have all the paperwork. We must join hands as brothers and sisters to cleanse our historic and public places from this racial insults perpetrated by the Govt. of India.
Back in 2005, I appeared on Penn & Teller show. The link is provided, I covered on Gandhi side of the story.

The rough language is that of Penn and not mine.
Please feel free to share this letter of mine with other faculty members as you see fit.
Sincerely,
GB Singh.