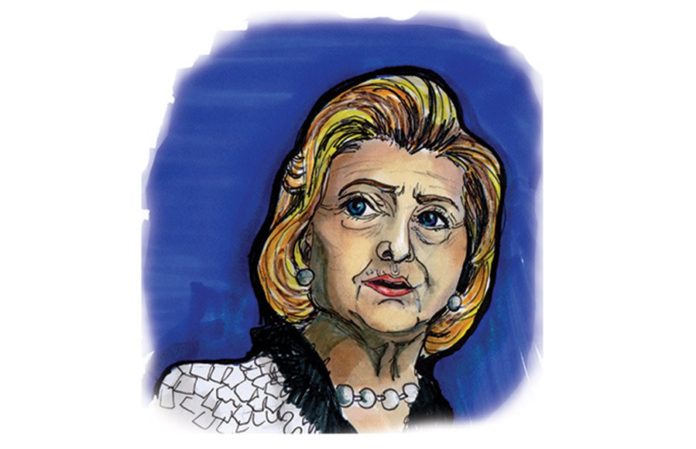 LOS ANGELES, USA. — There is an issue that has nagged me for far too long. I have only mustered the courage to address it now, albeit, briefly. Today is November 8: Election Day in the United States of America is finally here. Whether it is Donald Trump (the RNC's non-establishment candidate) or Hillary Clinton (the DNC's first female candidate) who wins, history will be made in the US. I have decided to put my deliberations in writing lest I miss this grand opportunity to express my profound sentiments.
Before I tell you about this pressing issue I would like to reassure my gentle reader that my goal here is to only stoke discussion, invite understanding and to generate the necessary constructive ideas we need to move forward even after this day of history passes by.
Back to the issue: Some of my African American Brothas and Sistas have been vehemently routing against Mrs. Clinton. And they have made some valid points. Yes, Mrs. Clinton has a lot of baggage. But is Mr. Trump really better than Hillary for president of the United States of America?
Prominent Sistas like Michelle Alexander and Brothas like Cornel West, for instance, have been campaigning against Mrs. Clinton's presidency right from the beginning of the election year. I grant them one of their pet peeves about Hillary's candidacy. Which is that she is not necessarily the best woman who we could have chosen within the Democratic Party and even across the US for the candidacy of the party.
But let's face it. Mrs. Clinton is in fact the only person in this election who is fully qualified for the position despite all her shortcomings. Even if she owns up to her involvement in the racy past of Bill Clinton (the former President of the US) and her entanglement with some of the socially detrimental— and sometimes racial—policies of Mr. Clinton, which I don't think she should necessarily recount and own, one will be hard-pressed to blame Mrs. Clinton, partly or entirely, for the shortfalls and suffering that such polices brought to bear in the African American community.
Since when is a wife responsible for her husband's racy past and his ill-thought-out government policies? Can one hold George W. Bush's wife responsible for the Iraq war?
More importantly, even though Mrs. Clinton is being blamed for Mr. Clinton's sins, the troubling idea is that if the former president himself—who's been clubbed for actually enacting the bad policies that affected a disproportionate number of African Americans and whose crimes of infidelity abound—were to be running for president today, against Mr. Trump, he would probably be garnering immense support from the African American community. Many African Americans still think that Mr. Clinton was the first Black president—good or bad!
This is a double standard.
So what exactly is Mrs. Clinton's crime? Is it perhaps because she's a woman running for the top job in a historically patriarchal culture with a deep seated religious leaning which has enabled whole communities from whole-heartedly accepting Gay Marriage as a right?
I cannot comprehend the sentiment and the frustration of African Americans about Mrs. Clinton since any rendition of the logic of the past two decades does not enlighten anyone about the import of their protest. It seems that the same euphoria peddled in Black neighborhoods in overwhelmingly supporting and voting for Barack Hussein Obama, who I strongly believed was NOT adequately vetted, is being turned inside out as a passionate protest against Mrs. Clinton's candidacy.
But according to US statistics, African American women are the most educated group in the US and still compose a significant voting bloc: More significant than the Black male vote. More significant than the Hispanic vote, male and female, put together. More significant than the Jewish vote. Which makes me wonder why Mrs. Clinton has not been afforded the same courtesy and the same rapturous support that Obama enjoyed in 2008 and 2012 in spite of the fact that Hillary, as of the moment, is the best qualified person for the job of president of the United States.
Obviously, I am by no means insinuating that the African American community is a monolithic group. Much in the same way that we are all not Democrats as most people outside the Black community might endeavor to assume. But I think if we all rallied for the election of Barack Hussein Obama as the 44th president of the United States then in this particular case, and at this time, we must also marshal a similar support for Mrs. Clinton as president of the US. We must do this so we don't end up on the wrong side of history.