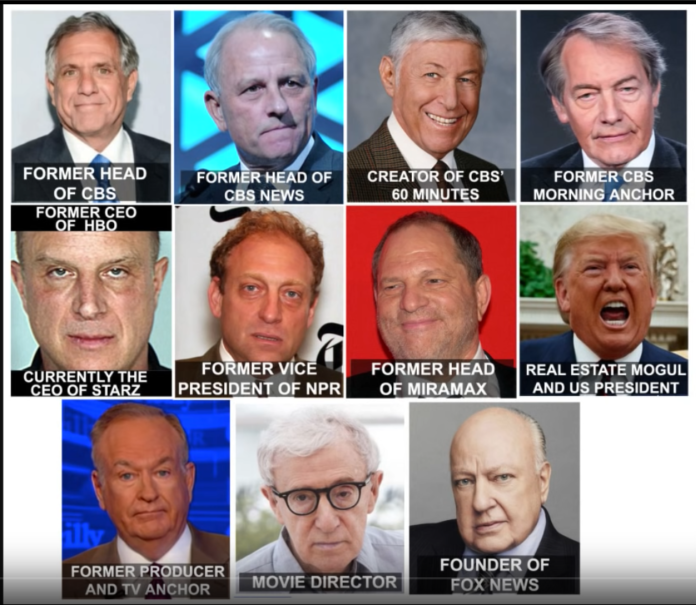 Dearest #MeToo: Caucasian Men Are No Angels.
BROOKLYN, USA — Those who claim that I am making excuses for Black men accused of rape, allow me to set the record straight. I do not, in any shape or form, condone inhumane behavior. More, "accused" remains the operational word here. This means, I do not believe that people who are accused are angels in the same manner that I do not accept that accusers are angels either.
All I point to is the double standard of the drive-by Caucasian controlled mass-media, which it seems, is double bent on a project that involves the shrouding of the face of rape, sexual assault, sexual abuse, in the United States with the image of the often fabricated narratives and portrayals of the "predatory Black man" (which seems to have persisted, at least in white media, since Birth of a Nation aired in 1915).
Let's take the white media coverage of R. Kelly for instance; a Black man, a rapper, who has been accused of raping an under-aged girl. Documentaries, upon documentaries, media coverage upon media coverage, has honed in on this Black man as if R. Kelly is the first man and the last one to have been accused of raping a woman.
Very little mention is made of Woody Allen, a white Hollywood mogul, who did not only rape his own adopted daughter (and who he is about 40 years older than she), but ended up actually marrying her. Allegations about Woody Allen barely makes media coverage. In fact, you would be hard-pressed to find any mention that Woody Allen's marriage is a "child marriage".
Still, another instance involves the myriad allegations of child molestation and pedophilia, pervasive in the public discourse, levelled against the late Michael Jackson. However, one would be remiss to find any coverage about real and confirmed actual pedophilia about David Bowie, the late English singer-songwriter and actor in the same media. In fact, when David Bowie passed away some of the most prominent Caucasian controlled drive-by networks launched attacks on those who dared to raise sexual allegations about Bowie.
The Daily Beast wrote after Bowie's death: "Times have changed. A culture of hedonism was standard back then" in an apparent effort to persuade readers that Bowie's pedophilia was actually "somewhat" acceptable. The Daily Beast continued and chastised those who challenged their hypocritical standards on morality by writing: "But apparently we can't resist imposing today's cultural standards on a different time… We can't resist dancing on our heroes graves, viewing their death as an occasion to champion our pet political causes… Now, the poison arrows aimed at our heroes take on an extra velocity on the internet."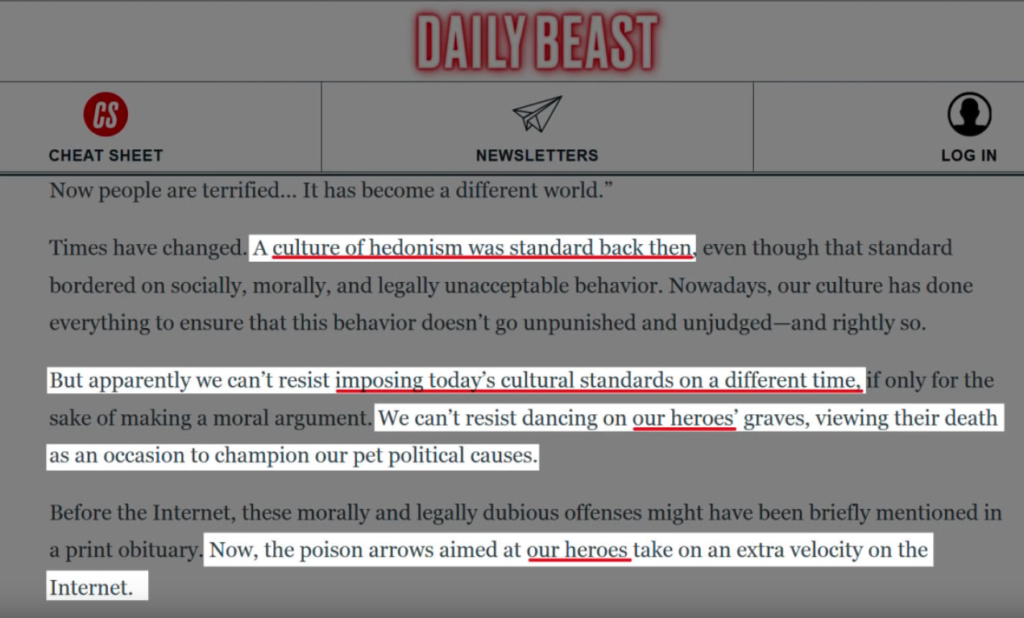 Juxtapose this strong defense of Bowie against the white-media complicity in demonizing the legacy of Kobe Bryant (via instruments like CBS' Gayle Skunk's interview with Lisa Leslie). Recall that Kobe was found innocent of an alleged rape of a white woman from the racist state of Colorado, USA.
Neither can we forget that Bill Cosby's accusers all pull out of the sky encounters they claim to have had with Cosby from the same time frame that the Daily Beast refers to as a period in which "a culture of hedonism was standard." Yet, Bowie gets a pass for he is white. Cosby doesn't. There's two sides to Bowie's story, you know. He is white. There's only one side to Cosby's story. He is Black. Plus women can lie, you know, when they accuse white men. When its a Black man, however, women must be trusted, and there's only one side to the story.

On the contrary, notice (below image) how Gayle Skunk defends her friend, Charlie Rose (a white man with a determined list of myriad rape allegations and charges) and notice how the New York Slimes writes adoringly about Gayle Skunk's committment to Gayle's friendship with a known rapist (in public), Charlie Rose.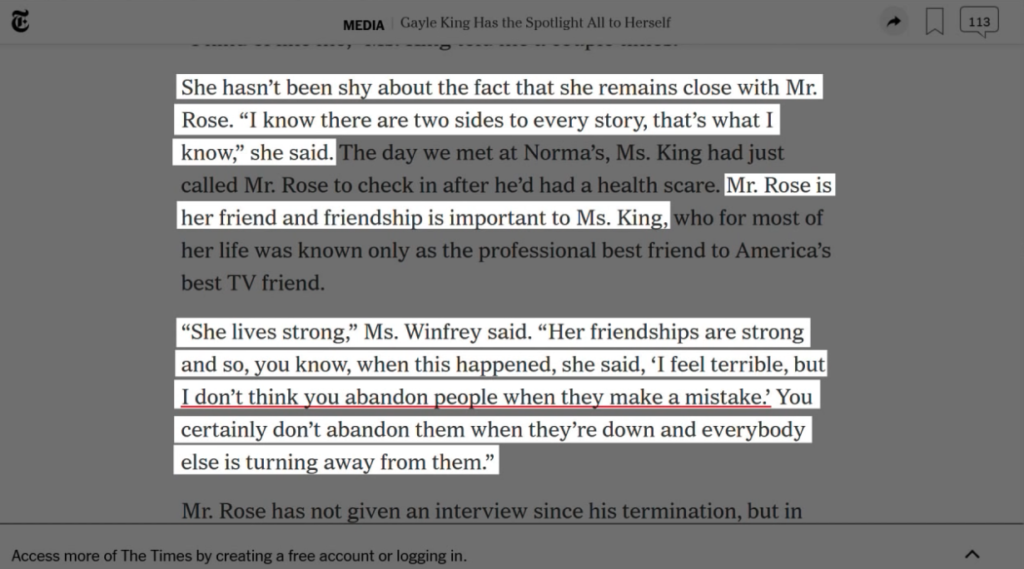 More, Gayle King will not mention or interview her former boss and admitted sexual predator Les Moonves (Molester Moonves). In fact, none of the top "journalists" working for the drive-by Caucasian media industrial complex (including Joy Reid, Orca Winfrey and Agent Duvernay), dares to talk about the white men who run the media and who happen to be the biggest predators in the world.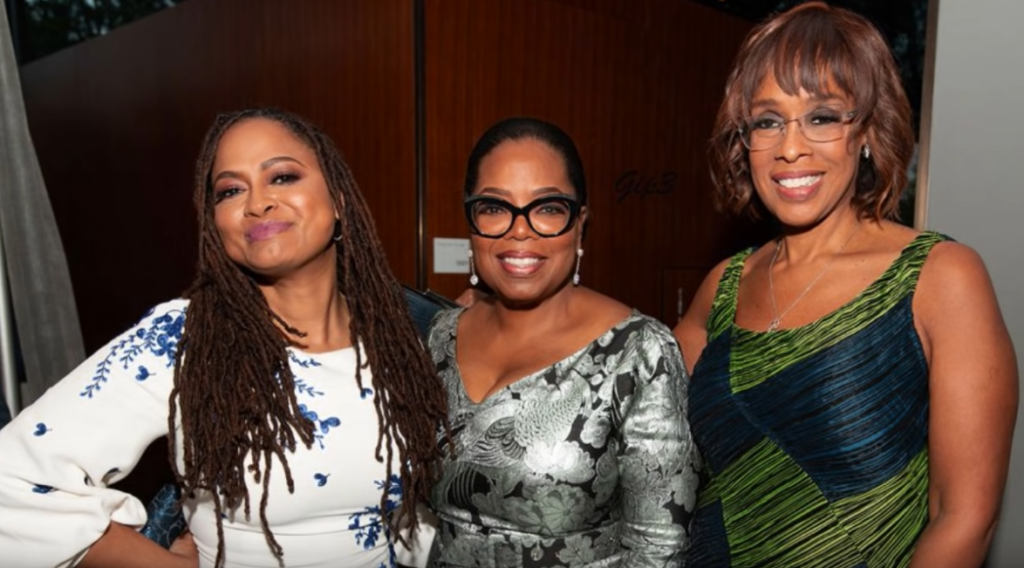 The Daily Beast and the New York Slimes are not alone to quickly stage a defense for David Bowie or Gayle Skunk using the drive-by white media template. Which goes to show that much of the drive-by Caucasian media pretend that white men are not rapists, and they do their very best to either ignore allegations of rape against famous white men, or they turn the force of their networks against those who confront the "angelic" narratives they paint of white men in America.
In fact, this brings me to my point. I am one of those who consistently challenges these hypocritical narratives of the drive-by white media. I leave no stone unturned in addressing their pharisaism. I do not accept that Black men are worse human beings than white men and I certainly reject the insidious narrative that white men do no wrong. Plenty white men are rapists, murderers and pedophiles. Their victims too deserve the full force of the media in shedding light on the atrocities of white men.