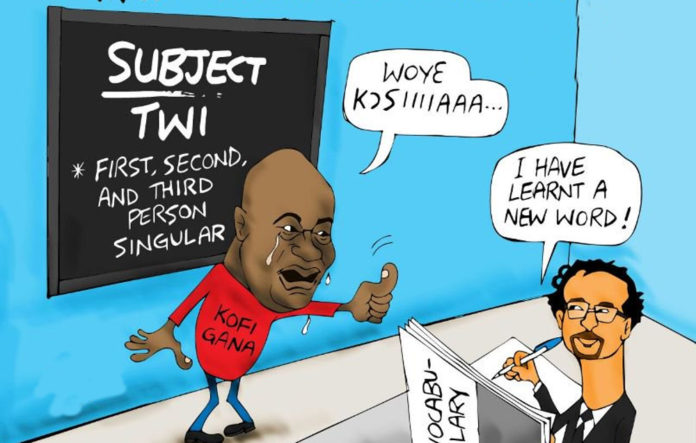 It's too hot around here, Innit? Grab a beer. Share a little gossip. Have a laugh when you can. Kiss that old school sweetheart. Love, actually. Hey, it's called life. Don't take it too seriously. Nobody is checking the number of pints you drink at the pub.  Live your life. Have fun and let it count. Exhale and live on. A little humour will not hurt, even if it is that sarcastic and satiric British humour.
Too busy for a joke
Like Fiddlers on the roof, each one of us is trying under extremely difficult circumstances to stretch out a pleasant little tune without breaking our necks. Here in Ghana, we hold our breaths as we navigate our way through the minefield that is Accra. The trotro driver is angry and he shouts at the highest decibel to the driver in the other lane: "Are you driving with a kindergarten certificate?" He responds: "Your mother is a big fool. The repartee is always predictable: "So is your father, you goat."
Elsewhere, they have the pricy luxury of wrapping themselves warm with heavy cardigans to avoid frostbite because it is too cold. Many Ghanaians will be happy to trade the excruciating heat in the atmosphere for some snow or freezing rain. We do not take holidays because we have nowhere to go.
Who has time to share a joke? We are not funny and the Nigerians know this. Our comedians are boring and they do not know their art. Their stories are about food or the lack of it. You need to tickle yourself and laugh. Satire, innuendo and self-deprecating humour are best therapies for the troubled soul. KSM tried to do it on these soils but Ghanaians did not find it funny. Kwaku Ananse is not funny, so is his son.
After enduring the heat in Ghana for some three years, British Diplomat Jon Benjamin must be missing his British humour. But he will not wait until he goes back to Britain to have a laugh. He has been around the sub-region long enough to feel a part of us. He tears away his diplomatic apparel and explores life freely like all of us, giving honour where honour is due, but also teasing and poking fun when the boy has a funny head.
Bollocks, it's only a joke 
There are two types of education: one teaches us how to make a living and the other teaches us how to live. Jon has chosen to live. Moving like a troubadour from one country to the other for some thirty years, his British sense of humour has not dried up. If he were a poet, Jon Benjamin will write in the free verse, deploying the iambic pentameter and all those exciting properties that make poetry readable.
His unusual diplomacy is unlike anything we have seen before in these parts.  Diplomacy appears to be a very special and tactful art usually pursued by people whose very training sets them apart from those of us who are permitted to yawn in public. Or so we thought. Diplomats are supposed to be sensitive, gentle, and have the unusual ability to work through thorny issues without offending sensibilities and feelings.
Some unforgiving charismatics wished diplomats were teetotalers, virgins or eunuchs. Jon Benjamin has excited Ghanaians with 'undiplomatic' tweets on social media. The diplomat has made a diplomatic meal of Bishop Daniel Obinim. First, he mocked the colour of his suits. He picked on him when the Bishop boasted he could transmogrify into a snake. His most scathing attack came when Obinim was arrested: "He is been charged. He'd be much more difficult to handcuff if he turned into a snake."
Controversy and diplomacy
When asked if he had adopted a Ghanaian name, as is usual with many foreigners who live in our midst, Jon joked: "My Ghanaian name is Jon Obinim-jamin."  The diplomat's recent controversial comment was linked to former President John Mahama when he tweeted: "Did someone inaugurate the Harmattan already?"  The President had been inaugurating and commissioning infrastructural projects, schools and hospitals.
Does the British PM inaugurate winter or spring every year? This is where British humour gets really humourous. As intelligent as he is, British Foreign Secretary Boris Johnson is widely known as the buffoon. So was Dennis Thatcher, Margaret Thatcher's husband. Who cares? British sense of humour means they are quick to put a sock in it.  They can even throw an 'f' word in there if the mood is right. It's British, innit?
Jon Benjamin has a tweet for everything. About jollof, he said: "I don't lose the opportunity to tell my Nigerian friends that the Ghanaian version of jollof is superior."  He even mocks his own race by invoking Jomo Kenyata: "When the missionaries arrived, the Africans had the land, the missionaries had the Bible. They taught us how to pray with our eyes closed. When we opened them, they had the land and we had the Bible."  His twitter signature says he is a depressed West Ham fan. Today, he tweeted about Brit-Ghanaian Edward Enninful, the new editor of the British Vogue.
Tea with Jon Benjamin
If you have never lived in Britain beyond a year, you might think British humour is limited to Rowan Atkinson's Mr. Bean or Lenny Henry's often phenomenal character roles. These do not typify the quintessential British humour. They are very funny but British humour is everyday humour. I lived in the UK for six years studying and working. I explored the country. I visited Shakespeare's house in Stratford-Upon-Avon. I saw his bed. I visited Parliament. Of course, I saw the Thames and London Eye.
I even kissed a few British women and almost married one. The British have a sense of humour. My supervisor at work pretended he couldn't pronounce my last name and called me 'Tawire' or Rev Boss. Africans love big titles. In the traditional town of Boston in Lincolnshire, a 70 year old white man asked me: "Where are you from?" Africa, I responded. "That's far, innit? How did you get here?" Aeroplane, I answered.
"I am yet to be in one; it must be very nice," the old man said. Yes, it is, I answered. When will you go back to Africa?  Before I would dignify the question with an answer, he whispered: "I won't tell anyone." We all laughed heartily. We even had coffee together. Oi Jon, let's have tea before you leave Ghana. Has the cat got your tongue?