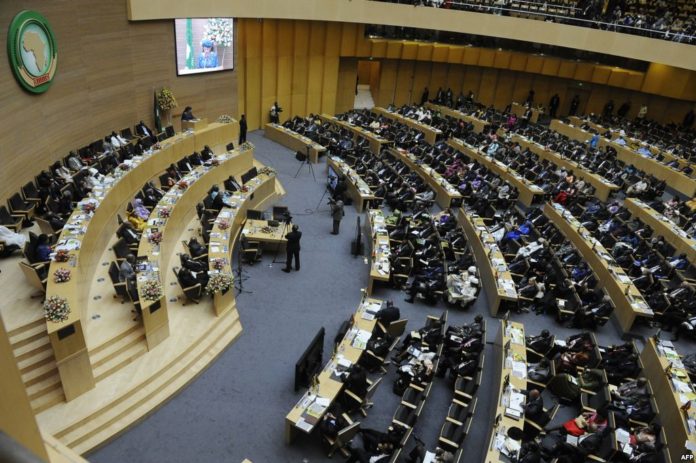 NTOABOMA — Earlier this year African Union (AU) bigwigs voted to stop the people of Haiti from officially rejoining and realigning their common socio-economic and geopolitical interests with the rest of Africa–a birthright denied Haiti for three centuries and counting.
On June 13, the United Kingdom voted to leave the European Union (E.U.).
So isn't it fascinating that after all this drama, exactly two weeks after Brexit, the AU announces a new "single African e-passport"? Isn't it fascinating that after the AU made a momentous decision against the grain of African interests to disintegrate diasporic ties in the world, it turns around with a proposition to integrate Africa through electronic means—essentially virtual tagging?
This group of bedraggled dignitaries at the African Union parrot the untested and uncontested idea that the e-passport will boost the socioeconomic development in Africa, believing it will reduce trade barriers, although this AU has already raised those barricades between Africa and Haiti. Presumably the e-passport will allow freer movement across African borders for people (though none from the diaspora); ideas and goods (only from Africa and none from Haiti, I guess); and non-diasporic services and capital (non-Haitian capital). Who believes them?
The African Union is a rag-thug organization of complaisant buffoons, bedwetters and coons—at best, a group of Blackface neoliberal think tanks. To believe that this organization, without any mandate of the people of Africa to show, could even brew a development plan from outside a kettle that is not imperialist, let alone fashion a vision that is not neocolonial – what they notoriously call Agenda 2063 – is itself a maddening experience and an outright nefarious nightmare.
What agenda?
Is this the agenda that kicked out Haiti – the world's first republic – as a nation of African peoples? Is this the same agenda that leaves out Africans in the diaspora only to turn around and blow smoke about embracing diversity? The same agenda cooked up in CIA and Mossad offices across AFRICOM barracks around the continent? What agenda? To kill off Africans with Monsanto's GMOs and Vaccines? To seize farm lands for the Clinton and Bill-Melinda Gates Foundation? Lands we have acquired and preserved through sweat and blood for millennia?
My blood boils. My stomach sinks for this dyslogistic union. What agenda?
Are these the same AU members that were fed the waggish dose of Barack Obama's carefully branded tale of "unconstitutional changes in government in Libya, Central African Republic, Egypt and Burkina Faso," while as they napped in their diapers, foreign agents keyed into motion a plan to suspend twelve member states? Is this the same AU that sat around for the CIA to invade a sovereign nation in Africa, several times over, and is still threatening to invade Eritrea? That rag-thug collection of CIA agents in Africa?
Only when you observe how this clandestine organization called the AU has been run for many decades since its founding under Nkrumah– who was overthrown and nearly assassinated by the CIA – you come to one conclusion alone: The AU is a western neoliberal tool that is now being officially marshalled against the interests and wishes of a bon vivant African peoples.
The AU needs to be overthrown. The latest evidence for this much-needed overthrow of the AU comes from the machinations of its neocon and neoliberal masters in the West, from this ill-gotten idea of an African e-passport.
For what? You would ask. Why is the African Union interested in an electronic passport for all Africans? What man or woman in Africa has asked for an Africa in 2063 in which every free movement can be tracked and monitored by foreign agents in Africa? An electronic passport indeed!
Do these leaders gathering soon in Kigali, Rwanda, understand the expensive and far-reaching consequences of sensitive electronic documents? Exactly what is wrong with the passports we have now? Essentially what is wrong with travelling while using the passports that individual nations issue to citizens? Aren't member nations more adept at vetting applicants rather than the disparate collection of dollar-grinding whores at the African Union?
If anything Brexit is a reminder to Africa and the African Union of the challenges inherent in a forced political and economic space. That sort of union has no other future but failure. Big failure. In an Africa under the weight of exploitative western nations—that do not seem capable of surviving on their own if they tried, the debates over debt, immigration and national identity that led to Brexit would only be magnified if significant barriers to access in education and health care and ongoing conflicts over resources and identity are not clearly and wisely defined for pragmatic solutions. Conflicts, not with one another, but with the very West – that seems incapable of minding its own business – will be the unavoidable tragedy. Much like the invented calamity of Boko Haram in Nigeria.
The progress and pitfalls of a regional African integration falls squarely in the laps of citizens, not on the tables of foreign spies sitting in the offices of the occupying force that is AFRICOM. Managing a common currency, balancing economies of vastly different sizes and structures, and building solidarity within and across our linguistically diverse nations, Africans have made such progress, just to name a few: the East African Community (since 1967), the Economic Community of West African States (since 1975), the Lagos Plan of Action for the Economic Development of Africa (since 1980) and the Southern African Development Community (since 1992).
After Brexit, after a broken E.U. and a bleak future of a world under one government, sadly Africa cannot offer a model and a way out of the loathsomely orgiastic Palestinian-killing machines gallivanting the planet as proponents of globalization. What globalization? For whom and by whom?
In a world now full of a revolutionary verve against an increasing call for homogenous super-states – constructed for easy picking by neoliberal capitalists from western nations – Africans will be making a grave mistake, in fact, we will be committing a heinous crime if we allow the AU to administer and issue passports, electronic passports at that, as permits into our lands. Who will issue these passports? And who is to stop 30 million Europeans and Americans from electronically assigning themselves passports, barging into your continent called Africa, traversing into your country, claiming they are citizens, and demanding a right to occupy your lands—lands for which we have fought and preserved with sweat and blood?
The AU has no mandate in Africa. It is not here to help Africa. With this new development, the African Union has shown that it is clearly a dyslogistic organization, partly because all its agendas are myths designed to fool and sway the African public. And partly because these myths are lies. But still more because some of them are ignoble lies – and the e-passport is one of them.
Electronic passports, especially those only issued by one office for an entire continent, are unacceptable. No nation should accept a government from Addis-Ababa. No sovereign nations, especially Ghana and Nigeria, should accept e-passports for commuting between traditional African states.
E-passports will only tag every business in Africa and supply our competitors with the smart data they need to topple us anytime they want. They are a recipe for entities like America and the EU to enter and socially engineer the whole population of Africa. We do not need your help, America. Get out and thank you very much.
The idea of electronic passports is intolerable and cannot be allowed anywhere.