Was the murder of three students in the US given enough media coverage?
Three young students in the college town of Chapel Hill in North Carolina were shot dead on Tuesday. According to reports, the victims were students at nearby universities, from Muslim faith backgrounds and were related to each other – 23-year-old Deah Shaddy Barakat, his wife, Yusor Mohammad Abu-Salha, 21, and her sister, Razan Mohammad Abu-Salha, 19.
Is This An Act Of Terrorism Against Muslims In The USA?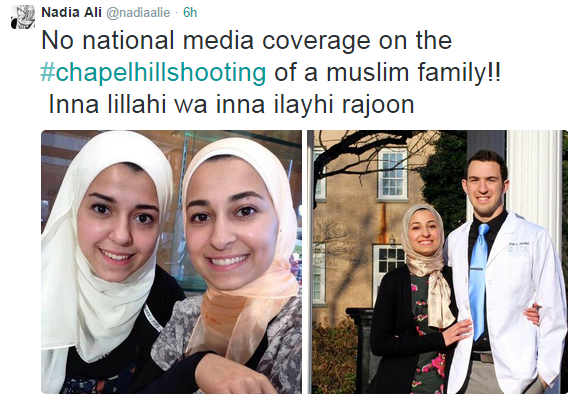 A man named Craig Stephen Hicks, 46 (pictured above) has been arrested and charged in connection with the murders. He has expressed atheist and white supremacist views on Facebook, according to reports.
Activists online accuse major media outlets of failing to adequately cover the shootings.
The hashtag #ChapelHillShooting has been used more than 300,000 times and was trending not only in the US but also in the UK, Egypt, Saudi Arabia and several other Middle Eastern countries. An Arabic hashtag, which translates as 'Chapel Hill Massacre', is also trending with more than 13,000 tweets.
The tag seems to have been started by Abed A. Ayoub, the legal and policy director of the American-Arab Anti-Discrimination Committee.
"Please keep the family of the victims in #ChapelHill in your thoughts and prayers. Senseless violence," was the first tweet. As the tag spread, he and other users began to put forward the argument that the faith of the victims was limiting coverage of the case.
Why hasn't anyone called the #ChapelHillShooting an act of terrorism? Are the victims the wrong religion?