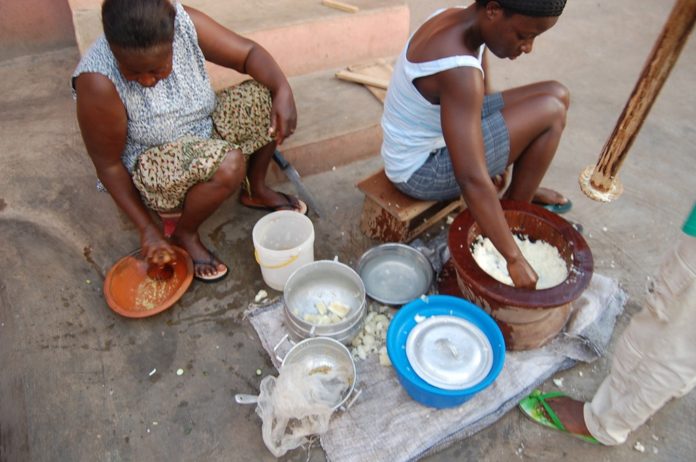 SUHUM—My grandmother warned me to never drink from a stranger's glass or eat a meal prepared outside of the family, unless of course, I had watched its preparation from end to end—and unless the stranger consumes it too. The former is more important than the latter.
Some people would eat anything without hesitation. (This is why terminology like cannibalism arose.) Generally it is unwise to base your limitations of consumption on someone else's judgment. There is no telling what others would do.
Watching the preparation of the meal is ever more imperative. Before the stew goes from spoon to mouth, it is vital to know what happened earlier. What were the social lives of the vegetables before they were plucked and boiled? Where did they come from? A lab, or a commercial farm, or a garden? How were they tended? With love and care, or with fertilizers, or with DDT—chemicals that are so divorced from nature that they are so difficult to pronounce that they need acronyms?
What were the social lives of the animals? That being—a living thing—who we've nicknamed "beef," but is actually a cow, and maybe goes by some other name on the pasture, perhaps was once a calf who had a mother and a father and probably siblings. Did they graze the lands together and roam freely or live in tight corners and in constant fear of the slaughter? Did they grow naturally on grass and herbs or artificially through consumption of meat products or force-feeding? Is the meat they cooked fresh or stale, healthy or diseased?
Sometimes a stranger's food is just bland or tasteless, which is an inconvenience for your pleasure but not at all a major blunder. Other issues with a stranger's food can fester into maladies with serious repercussions.
Is there too much pepper or salt? Too much salt and you could get ulcers or have stomach problems. Too much sugar and you could get diabetes and have vision problems. Too much butter and you could get high cholesterol and have heart problems. Are you allergic? You could have an intense reaction with unforeseeable consequences.
Or worse, are the strangers wholly untrustworthy? Would they purposely tamper with the stew to provoke your downfall? Would they outright feed you poison?
The latter questions, some might call conspiracy theories or paranoia. No one wants to believe that he has to live on this earth chasing his own shadow. No one wants to believe a stranger would have ill intentions, such that it is difficult to trust any visitor that passes through. Some would even blame themselves for showing caution and believe themselves to be guilty of an embarrassing characteristic of being inhospitable.
Yet this is the wrong way of thinking. No one should feel ashamed or apologize for being inhospitable to a malady or that which would weaken your health or the stability of your community. When our biological and physiological systems have developed in isolation, for different foods we are more or less apt for digestion. Our immunities vary.
It is better, my grandmother cautioned, that I see for myself and choose to eat or not accordingly rather than have that decision made for me and it lead to peril.
In the short run, it is much less work to just rest your head in the hands of probability and hope and pray that strangers and visitors turn out to be decent individuals, who help more than harm.
But in the long run, putting blind faith in strangers can lead to our consumption of digestion of harmful things. And this harm that can occur from ingesting a stranger's meal extends far beyond stews—to also ideas and ideologies.
My grandmother's words held wells of meaning. To a child, they showed how to live in the village. To an adult, they showed how to interact with others in surrounding villages and countries, and even with people from lands far away.
Her warnings to not eat a stranger's stew explain literally why world leaders travel with their own private chefs and figuratively why it is poor advice to adopt another country's constitution or sign trade agreements that were drafted in a boardroom thousands of nautical miles away.
Where were you (or your Ancestors) when the definitions and laws that define governance were crafted? Who cooked the local ordinances, national policies, and global regulations?
Do you know the ingredients in the stew, why they are there and what impact they are designed to have on your ecosystem? Or are you simply hoping that those strangers from strange lands have brought you their finest feast with best wishes?
My grandmother would never take that chance. She would never spin the roulette wheel with a stranger's stew. And she would advise you, the same: Do not eat a stranger's stew!