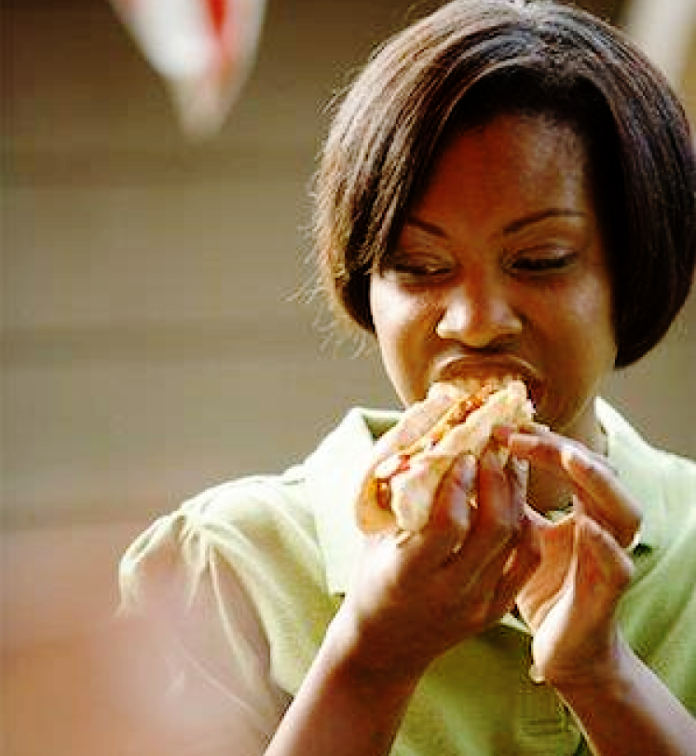 Some greasy-haired redneck from Indianapolis (Indiana, USA) arrives in Accra, sets up a hotdog joint in Osu, and instantly becomes the talk of the town. Grown-men riding in the posh-seats of Toyota Land Cruisers meet at the new joint. Ministers of state who are chauffeured around the country by real human beings, parliamentarians with bodyguards, and doctors with four times the salaries of their nurses, meet their dates at this new joint; they meet their girlfriends, wives, and mistresses, at this new hotdog joint. What are they eating? Hotdogs!
"What is that?" Asked my grandmother.
America's Hot Dog & Sausage Council (NHDSC) states that hotdogs are made from animal "trimmings." "What are trimmings?" My grandmother is curious. The whole idea of animal trimmings at a butcher-store begins to capture a nauseating picture in the mind's-eye of the old lady. She wants to know what "trimmings" entail.
Americans like vague words when it comes to food; words like "trimmings." It means nothing, yet means everything. Here there's room to commit dietary crimes of untold proportions. So "trimmings" is a purposely-vague word. Imagine a goat hotdog for instance: Mix the saliva, tongue, blood, intestines (plus the containing excrement), hooves, horns, hair and some parts of the meat together in a meat grinder. Add some salt and other unnoticeable chemicals to taste. Roll up the paste into a thin plastic "dildo" and boil it. Or fire it away in a smoky flame—or yet, heat it up on a hot plate. "That's a goat hotdog for you grandma!"
"Who comes up with these silly ideas? Are they starving?" To which I answer, "No they are not. The West wastes over fifty percent of the world's butchered meat. They literally throw away fifty percent of real meat stored in their never quenching freezers! Yet they eat hotdogs. No, a hotdog is not just a silly idea. It is a real thing. People eat hotdogs for lunch," I informed my grandmother. She sighed, "Okay, that's enough!" She stops me. "No grandma," I insisted, "that's what the big men in Accra eat nowadays." She gawked. My grandmother could not swallow her own saliva for a minute. "I said that's enough, Narmer!"
When grandmother says, "That's enough," that is enough!
But it's true. Some greasy-haired redneck from Indianapolis (Indiana, USA) arrives in Accra, sets up a hotdog joint, and instantly becomes the talk of the town. The More Educated Than His Ancestors, the Metha, who now occupies the seats of government deep down in Accra eats anything with an American or European label. He introduces his loved ones to the dirt as well; he introduces people to the poisons of his indulgence. Nothing without a label is safe for his own consumption. He will not eat Kenkey and fried fish from the roadside unless it is wrapped up in a plastic bag and parceled in a Styrofoam bowl. He will not eat Waatse served in a leaf. He will not eat Banku and Okro Stew from Daavi for fear of Vodun.
The Metha is an African man with European appetites. Deep down he wants to be European; he wants to be Caucasian. Except, he cannot. Never. And for that matter he suffers from diseases like diabetes and high cholesterol. He suffers from diseases of European appetites. And he infests his loved ones with the disease with what he calls his "Mission-School" education. Take diabetes for instance. My grandmother calls it the "Sugar Disease." It is for those who cannot eat Hausa Koko and Kose without sugar; without three spoons of sugar per cup. When Europeans discovered how to make sugar from Sugar Cane, the Viking sitting deep within their bosoms erupted. They killed and enslaved so many Africans for sugar production so much so that a tiny English chief grew into an actual emperor.
The nauseating appetite for sugar is skin-deep among the Metha. Even when a cure for diabetes is presented to him by old fashioned traditionalists from Ntoaboma, Volta, for his own consideration, the Metha runs away. Into the open arms of his European doctors, who kill him instantly with Big-Pharma drugs. The Metha is of course not aware of this: That the hotdog is directly linked first to his death at the hands of his beloved redneck, and second to his cultural demise.
Worse, it is not the hotdog that the More Educated Than His Ancestor, the Metha, loves. Far from it. The Metha wants to become the redneck. For this reason he is unaware of the plans of the redneck to kill him and remove him from the land. The Metha is blind. Totally blind. His inability to see infects all others around him because the Metha is European-mission educated, and he wields a formidable tool in Africa called USAFRICOM. The Metha is the Trojan Horse in Africa. Deep-seated within his belly are many diseases, ready to be unleashed on the African soul.
The Metha is the African who left his brain behind long ago in Timbuktu.